New Ram Compare 2021 Ram 1500 vs 2021 Chevrolet 1500 for Sale in City of Industry, CA l Los Angeles area
Compare 2021 Ram 1500 vs 2021 Chevrolet 1500


View Inventory
Two of the most popular choices among full-size pickup trucks are the 2021 Ram 1500 and the 2021 Chevrolet 1500. Both of these vehicles offer strong towing and hauling capabilities along with spacious cabins and numerous technologies. The Ram, however, stands apart from the other vehicles in the class. Upscale interiors and ride comfort are qualities that consumers now take for granted. But it was Ram that built that style of pickup first and which continues to push the segment forward. The Silverado is certainly no slouch on that front and has raised the bar for trailering-assistance technologies. With that in mind, let us compare the 2021 Ram 1500 vs 2021 Chevrolet 1500 and see how they measure up.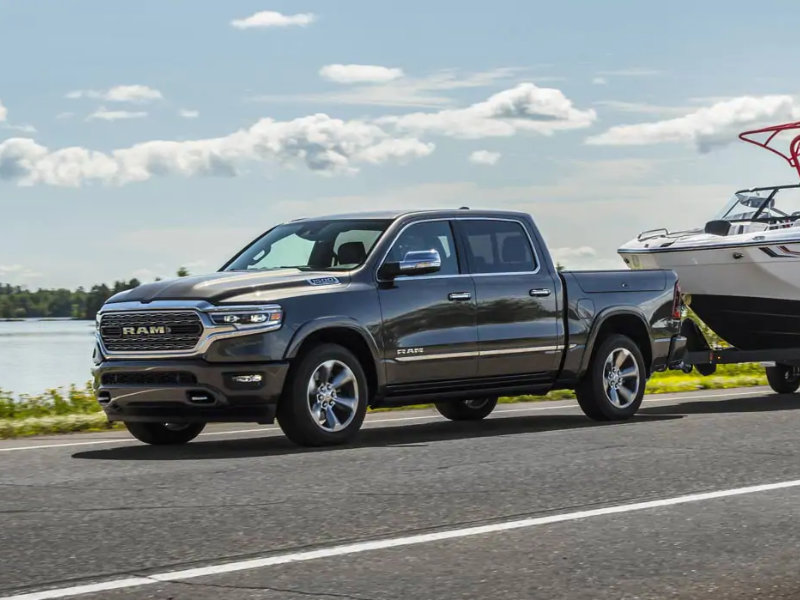 Exterior – Ram Dealer serving City of Industry CA
Puente Hills Ram offers the 2021 Ram 1500 in two cab styles. A four-door extended cab with half-size rear doors is paired with a 76-inch bed. A crew cab with four full-size doors is paired with either a 67-inch or 76-inch bed. Customers who want a traditional two-door pickup cab can opt for the Ram 1500 Classic, which pairs it with either a 76-inch bed or a 96-inch bed. The 2021 Chevrolet 1500 is also available with either a regular cab, extended cab or crew cab. Chevrolet pairs the regular cab with a 98-inch bed, the extended cab with a 79-inch bed and the crew cab with either a 70-inch or 79-inch bed. Ram 1500 wheel sizes range from 18 to 22 inches, and Silverado wheel sizes range from 17 to 22 inches.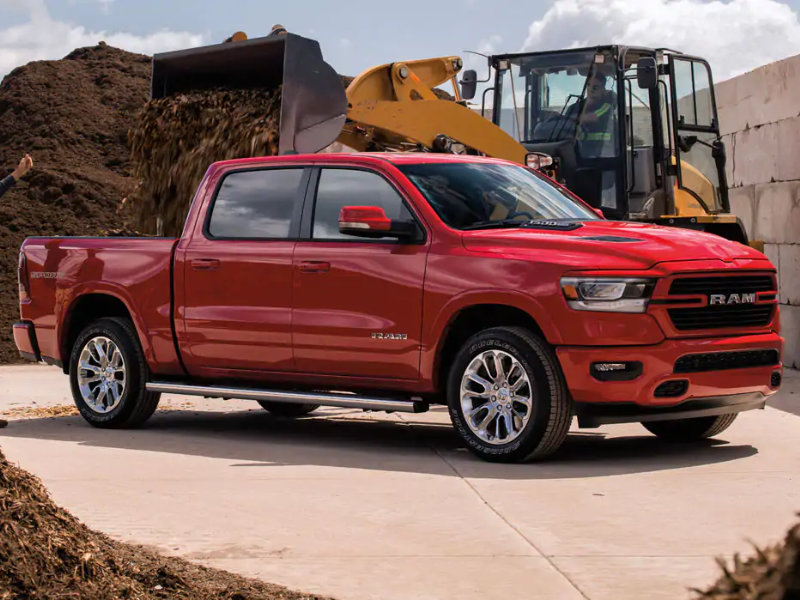 While Chevrolet has improved in regard to ride comfort, no pickup truck on the market delivers the cushy ride that the Ram 1500 does. As far as interior amenities and technologies, both automakers offer similar standard and optional features, but Ram has introduced a digital rearview mirror that lets you see out the rear of your pickup even when that view is obstructed by cargo or a trailer. As for seating, both regular cabs can seat three, and the extended and crew cab from each manufacturer can seat either six or five depending on the style of front seating you choose. As for legroom, both trucks offer more than 40 inches of legroom in the front row and more than 40 inches of legroom in the back seat. But Ram wins when it comes to rear legroom in the crew cab offering almost two additional inches.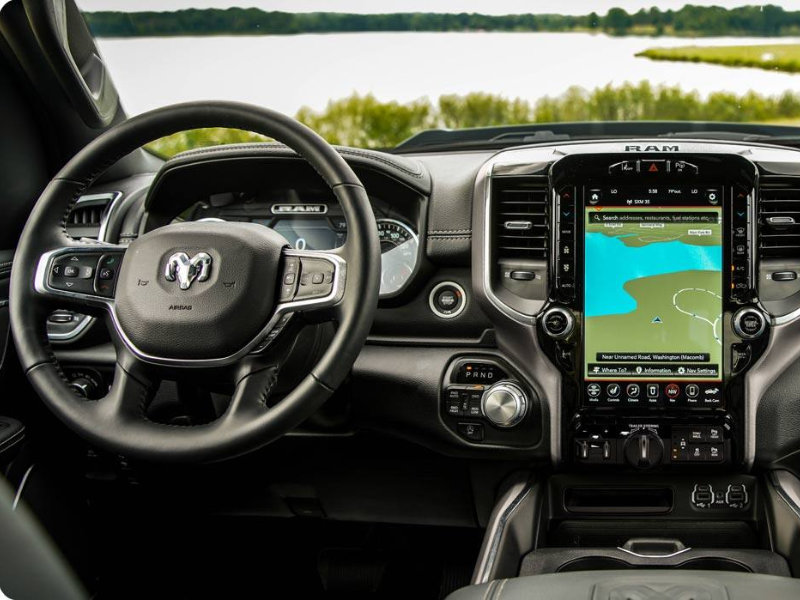 Ram 1500 Mechanical specs
Perhaps no aspect of a 2021 Ram 1500 vs 2021 Chevrolet 1500 comparison draws more interest than the powertrain. As you would expect, both automakers offer rear-wheel drive standard and four-wheel drive as an option. The base powertrain in the Ram features an eight-speed automatic transmission paired to a 3.6L V6 engine that generates 305 horsepower and 269 pound-feet of torque. This powertrain can haul as much as 2,300 pounds and tow as much as 7,100 pounds. The base powertrain for the 2021 Chevrolet 1500 pairs a six-speed automatic transmission with a 4.3L V6 that makes 285 hp and 305 lb.-ft. This setup can haul as much as 2,250 pounds and tow as much as 7,900 pounds.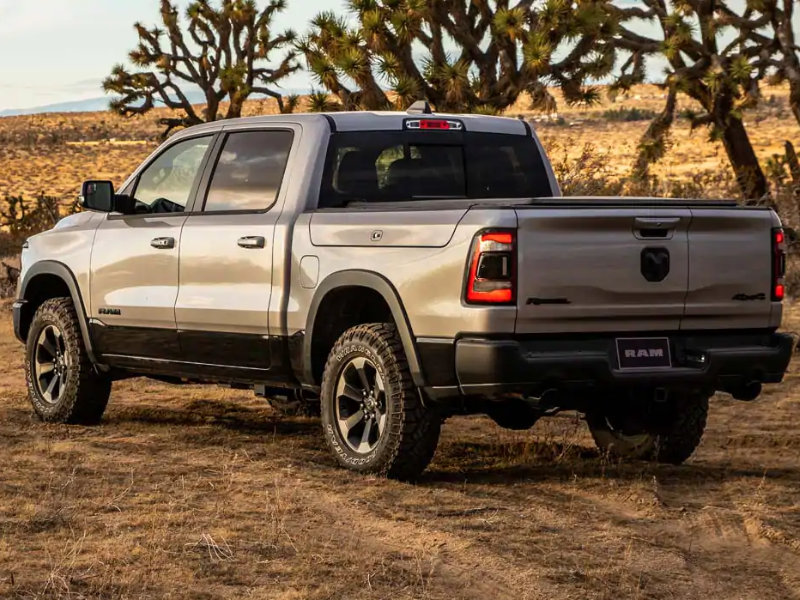 Tech – 2021 Ram 1500 dealer
The Uconnect infotainment system has long been praised as the best software found in a pickup in regards to intuitiveness, responsiveness and feature set. The Ram 1500 offers you the choice of an 8.4-inch touchscreen with or without navigation or a 12.0-inch touchscreen with navigation. Standard features include a rearview camera, Bluetooth, Android Auto and Apple CarPlay. Chevrolet gives you the choice of either a 7-inch or 8-inch touchscreen. Navigation is also optional, and the features listed above are included with the Chevrolet equipment as well. Both automakers offer a range of advanced driver assist, including automatic emergency braking, blind-spot monitoring and adaptive cruise control.
Puente Hills Ram now has the 2021 Ram 1500 available to purchase and lease. You can test-drive it today. Visit us at your convenience, or schedule an appointment through our website. You can call or contact us online for custom quotes and other details, and our site provides all the tools you need to shop the Ram 1500 from the comfort of your home or office. Compare Ram 1500 models and trims. Explore specials. Calculate your payment. Get preapproved for an auto loan and much more!