New Ram Cerritos Area 2021 Ram 1500 TRX for Sale in City of Industry, CA l Los Angeles area
Cerritos Area 2021 Ram 1500 TRX


View Inventory
Vehicle Overview
Are you searching for a 2021 Ram 1500 TRX near Cerritos? Serving Cerritos City West Covina Anaheim, it's worth to call the 2021 Ram 1500 TRX a Hellcat Pickup truck. The competition for the leading top-performance pickup truck is getting interesting, thanks to the entry of the 702-hp 2021 Ram 1500 TRX. Found in Puente Hills Ram, the TRX 1500 smokes the Ford F-150 Raptor and the Blue Oval option. Putting the battle aside, our 2021 Ram 1500 TRX near Cerritos is an intimidating and impressive machine. She's 8-inches broader than its predecessor, and her off-road abilities have been reinvented. The Ram 1500 TRX 2021 comes with a more robust frame, more advanced suspension, and a glut of other advanced features. Its luxurious interior also sports the latest technological features. Serving Cerritos City West Covina Anaheim, we have highlighted specs of the 2021 Ram 1500 TRX. Keep reading for more insight.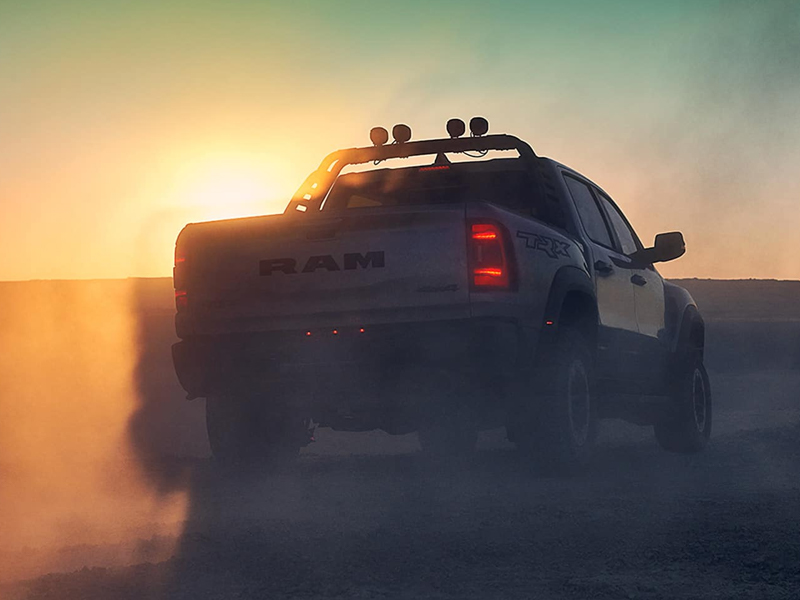 Exterior – 2021 Ram 1500 TRX
The 1500 Ram sports a bold aesthetic that makes it stand out. Its 8-inches broader than the regular 1500, and the composite flares add a 6″ track width. The front axle is placed 20mm forward to allow the monstrous 35″ All-Terrain Goodyear Territory tires to sit adequately. These tires also get the 18″ ready Beadlock wheels. The 2021 TRX's front bumper has LED marker lights, and a new-design aluminum hood also has LEDs assimilated with the operational hood scoop. Other top-tier exterior aspects include the full-length optional rock rail, hood and bodyside graphics, and the aluminum power-coated running boards. This vehicle's box outers are wider than those on the standard 1500 and constructed using steel. Apart from the spare tire found under the bed, there's a bed-installed spare tire vessel. The 2021 Ram 1500 also comes with LED taillights and headlights. You'll find the R-A-M badge on the front grille and tailgate that comes with an improved design to increase airflow. It also has large tow hooks at the back and front as well as the 5″ dual integrated exhaust pipes.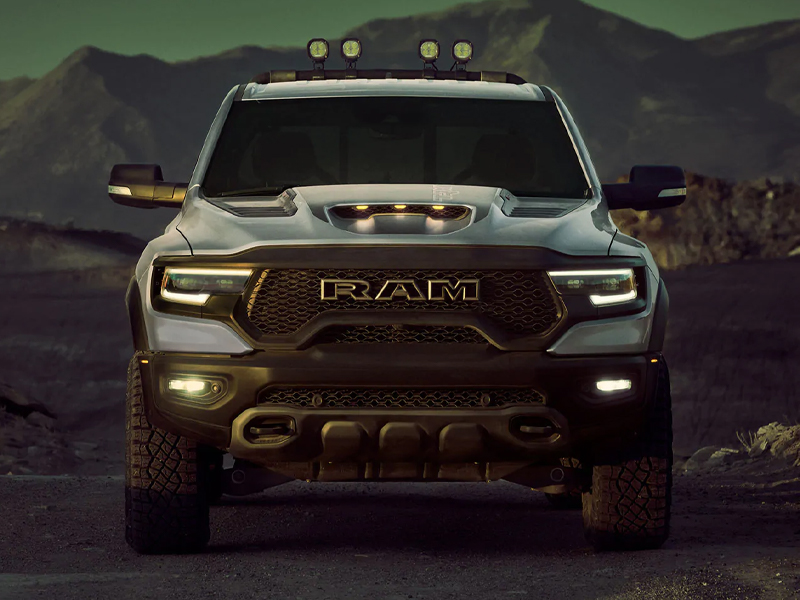 Interior – 2021 Ram 1500 TRX near Cerritos
The 2021 Ram 1500 TRX near Cerritos is available with a top-of-the-line interior that entails top-tier materials such as the hand-wrapped leather panels. You can choose between three interior alternatives: suede and leather, vinyl and premium cloth, suede, and leather with carbon fiber and red accents. Although the interior is Ram Rebel- based, you can opt for various equipment packages such as ventilated and heated first-rate Natura Plus leather back bench seats and front bucket. You'll love the flat-bottom SRT steering wheel plus the large aluminum shifters that allow natural gear changes. Another impressive feature is the new console-installed floor gear shifter that consists of the cast metal grasp covered in leather.Other interior features include the improved front seats with embroidered logos, tighter bolsters, a head-up display, and a Uconnect 12″ touchscreen. There's also a customized plate that lists the supercharger type, the VIN, horsepower, and boost output.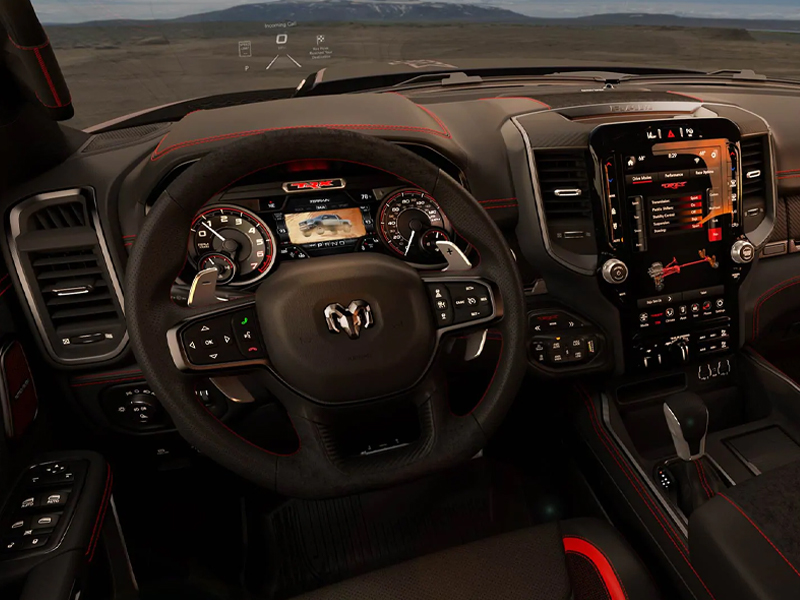 Mechanical – Ram 1500 TRX specs near Cerritos
The 2021 1500 features upgrade the metal gauge width's thickness to support the 7800 –pound vehicle weight. Ram increased the curb weight by around 600 pounds; thus, it can tow 8,100 pounds. TRX's frame has been 74 percent changed to handle the truck's suspension that can run at speeds of 188mph in deserts. The enhanced coil suspension rides 2″ higher, offering an 11.8″ ground clearance. Its aluminum-forged front lower and sturdy steel upper arms provide a 13″ front wheel travel. The back coil spring is 23.6″ long, and the system incessantly adjusts rebound and compression. Thus when you get air, it changes dampers to enable a posh landing. You can also manually switch the damping from 8 drive modes, including Baja, Sport, and the valet mode.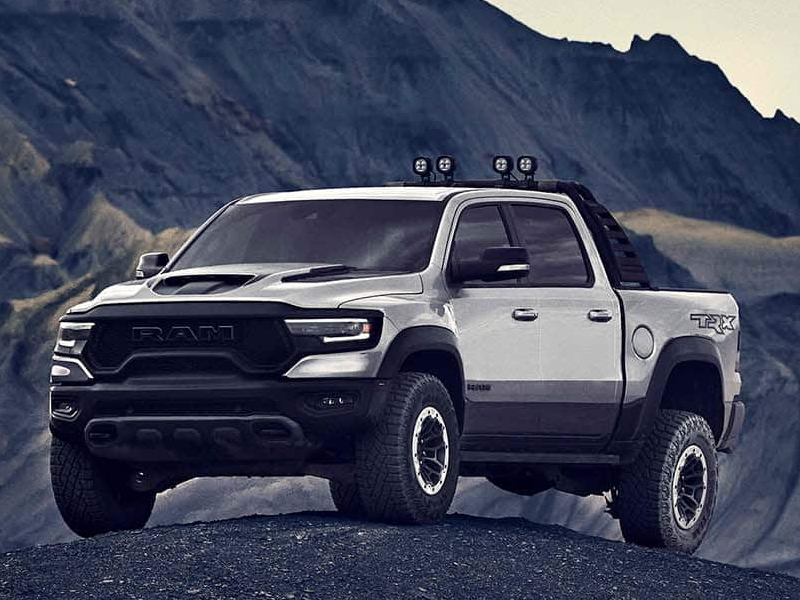 Powertrain – Ram 1500 TRX specs
Under the hood of the 2021 Ram, 1500 TRX near Cerritos is the familiar 6.2L supercharged V8 engine that comes with the 'Hellcat' badge. The truck offers a high 702 hp and 650 pound-feet torque that accelerates from 0 to 60miles per hour in 4.5 seconds. Its engine is connected to the two-speed transfer case and the 8-speed auto-transmission adopted from the Jeep Grand Cherokee Track hawk. According to Puente Hills Ram, this is the fastest truck covering a quarter-mile in less than 13 seconds.
Safety – 2021 Ram 1500 TRX dealer
The standard side-curtain, front-and front-side airbags are accompanied by the rearview camera. This 1500 TRX has autonomous emergency brakes with an adaptive and optional cruise control unit. It offers forward-collision alert that is standard in all the trims except the Big Horn/Lone Star and Tradesman. It also has the back cross-traffic and Blind-spot warning, lane-departure notification, and the optional reverse control. This pickup track also highlights jump detection. Using the accelerometers, ride height, and wheel speed sensors, it notifies you when it's airborne to prevent dangerous power strikes within the driveline. Although the NHTSA (National Highway Traffic Safety Administration) or IIHS (Insurance Institute for Highway Safety) hasn't crash-tested the 2021 1500 TX, expect it to get a high safety rating as its predecessor (regular 1500). Ram equips its high-performance pickup with multiple driver-assistance technologies, which entails functions that allow easy trailer hook-ups.
Ram incorporated several miles of serious environmental testing to TRX's vigorous development cycle. This vehicle can handle the desert's blistering heat and cold environments. It's one of the fastest pickup trucks in the market and comes at an affordable price. Are you looking for something special? Choose the Launch Edition that comes with an Anvil exterior coat. You can contact Puente Hills Ram for more information.