New Wagoneer 2022 Grand Wagoneer in City of Industry CA for Sale in City of Industry, CA l Los Angeles area
2022 Grand Wagoneer in City of Industry CA


View Inventory
The name Grand Wagoneer has not been heard for a long time, but Jeep is returning this quintessential model to the year 2022. It has three rows of seating, all that have ample room for any size of an adult, and it is a powerhouse of an SUV. The engine on the vehicle is a V8 and it has a high towing capacity, but the interior remains as luxurious as you may expect. You can learn more about this massive SUV in the 2022 Grand Wagoneer review that is given in detail in the information found below.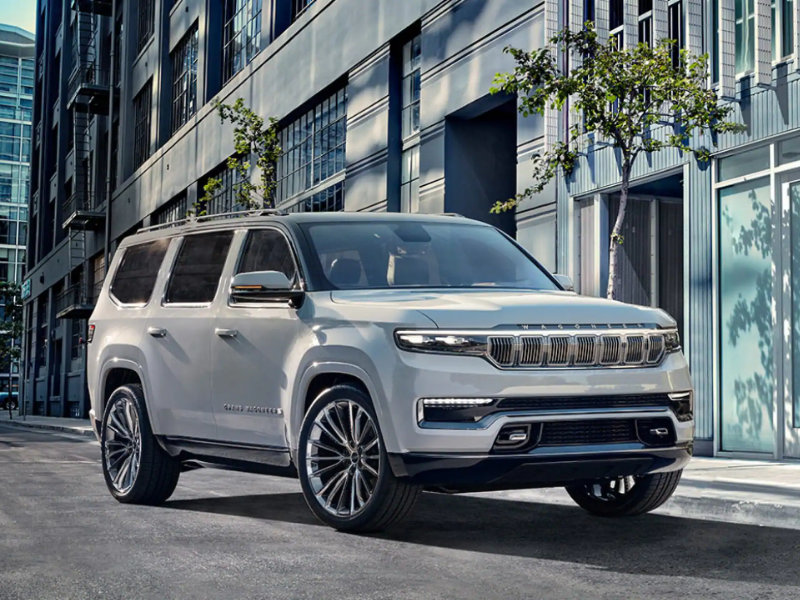 Exterior – Jeep Dealer serving City of Industry CA
The exterior of the 2022 Grand Wagoneer is true to the exteriors that are known and loved by the Jeep franchise. The design of the Grand Wagoneer is meant to represent the landscapes that are seen throughout America, with rolling contour lines and strict lining. At the back, the liftgate is hands-free so that you can take any belongings you need with you and you can load them without needing to drop them first. The wheels are hand-crafted and 22-inch for the look of the Grand Wagoneer, and the lighting is the most premium LED which represents the premium look expected. The glass on the windows is able to be color-tinted with a copper color to add just the right amount of personalization to your vehicle.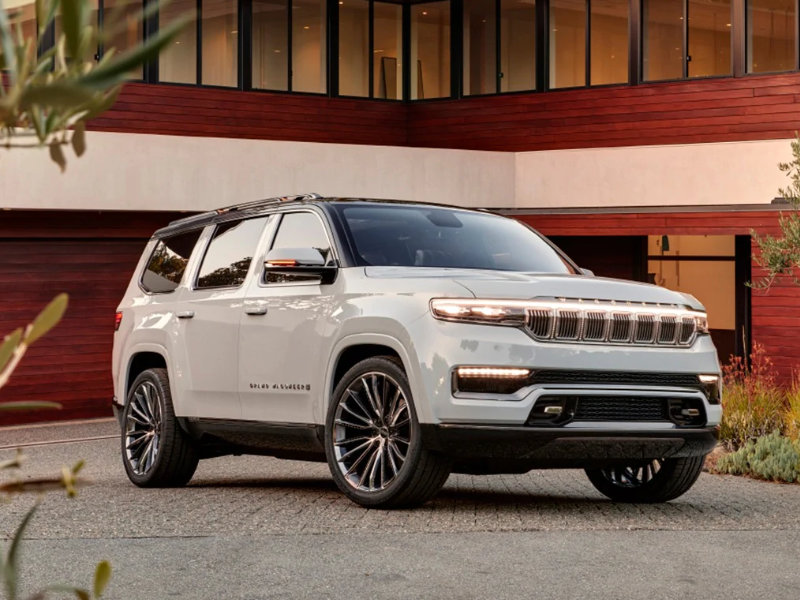 The interior of this Puente Hills Jeep has available seating for seven seats with the standard captain's chairs in the second row. The upholstery on any of the sweating is made from leather with chestnut wood detailing, and the front seats are adjustable in 24 different ways. The temperature is able to be adjusted in three different ways, and there is ambient lighting found throughout to give an upscale vibe. The infotainment display screen can be as large as 10.3-inches, though you can opt for the smaller 10.1-inch display screen, and there is a digital gauge display, passenger screens, rear entertainment screens and more. Finally, you can opt for smart device connectivity, satellite radio, Amazon FireTV built-in with Alexa capabilities, and more.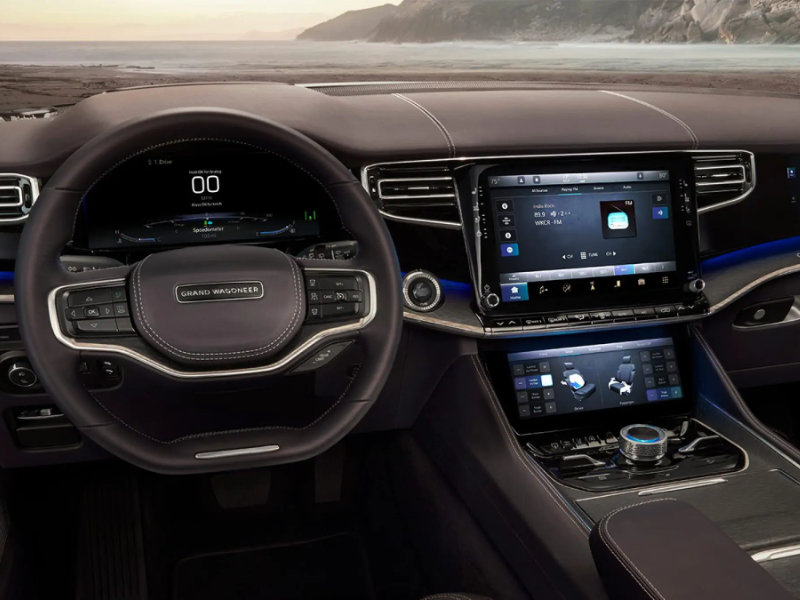 Grand Wagoneer Mechanical specs
Come to a City of Industry Jeep dealership to better understand what this three-row SUV is capable of. The mechanical build of the Grand Wagoneer is meant to take you to places that you may have never been before, and there is an impressive power in the hauling capacity as it can tow up to 10,000 pounds. When you are hauling goods, there is a rearview backup camera to help you stay perfectly aligned. For a trip to go off-roading, use the Advanced All-Terrain Group that has traction management mechanics and an air suspension system to keep you on the road. There is even a skid plate on the front, tow hooks, and Selec-Speed control to keep you where you want to be.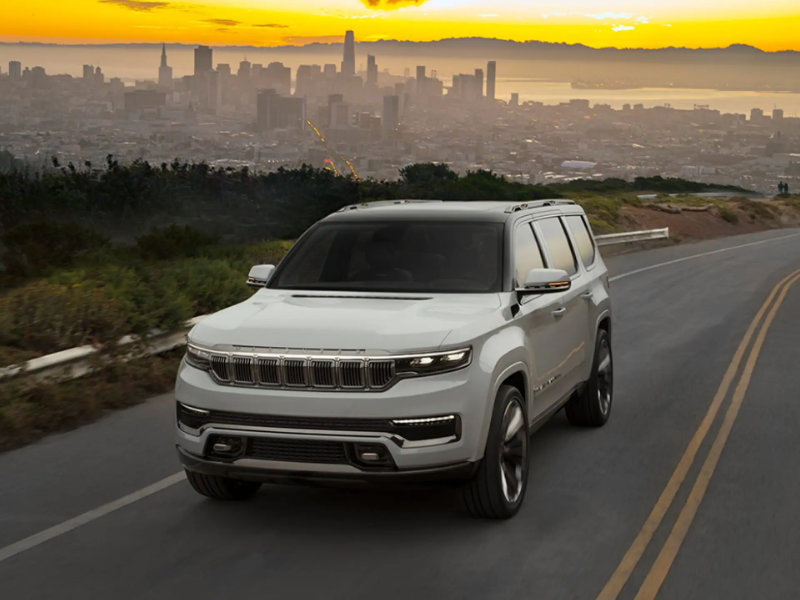 Powertrain – Jeep Dealership in City of Industry CA
The 2022 Grand Wagoneer has a large and powerful V8 engine under the hood. It has 6.4-liters that can generate close to 500-horsepower at specifically 471-horsepower and 455 lb-ft of torque to keep you going strong. You can reach 60 mph in as little as six seconds in this model of the Wagoneer. The standard transmission on the Grand Wagoneer is all-wheel-drive, which goes well with the air suspension system. There is a drive-mode selector available so that you can determine the traction control system you need for snow, rocks, or even sand.
Safety – 2022 Grand Wagoneer dealer
Purchase a Puente Hills Jeep in the form of a Grand Wagoneer if you want to have a strong and safe vehicle for everyone who rides. This SUV excelled in its crash tests, much of which is due to the many standard driver-assistance features which are available. You do receive emergency brakes as standard in the safety package, and with this SUV, this feature is able to detect both cyclists and pedestrians. There is also lane assistance technology to assist you when you are looking to merge with monitors for the blind spots. Finally, as aforementioned, you do receive a rear-view camera to assist you when you are hauling a trailer or other vehicle, and adaptive cruise control comes as standard.
Come to the City of Industry Jeep dealership to see the brand new Grand Wagoneer for yourself. This is the more premium edition of the rebrand of the Wagoneer, and it represents luxury and a sense of adventure with a rugged exterior and premium interior. Find comfort in the leather seating and with the variety of entertainment options that are available while going off-roading due to the abilities of the traction control system. The emergency brakes that are part of the safety package will help you to avoid any potential hazards that are in your way.
The Grand Wagoneer is a status symbol and dominating statement from the Jeep brand. They resurrected the old Wagoneer line to make it something unique and stately for a whole new generation of SUV lover. You'll find 2022 Grand Wagoneer trim levels in City of Industry that match your ambitions in life. And this is an ambitious SUV to match its owners focus on the future. You'll find four elegant trims to choose from here at our dealership.
Series I Trim
The Series I trim is just a taste of the royal treatment you get with the Grand Wagoneer, but it's more than most SUVs deliver in a fully loaded trim. The model's exterior comes with retractable chrome running boards, a panoramic sunroof, and a power liftgate for easy loading and unloading. Leather-trimmed seats are gorgeously displayed in all rows, delivering a powerful visual of success. There's even ambient interior lighting that you can customize to your moods. The Series I is more than enough for most of our buyers and will be among the most popular trims this year because it has a lower starting price. It has a diverse series of driver-assist features that meet every need, too, such as a head-up display, automatic parking system, and blind-spot monitor.
Series II Trim
The second of our 2022 Grand Wagoneer trim levels in City of Industry is a Series II model. It features much of the same exterior you see on the Series I, but you'll get additional interior features like leather-appointed upholstery and heated and ventilated seats. You can control the temperature of your model in four different zones so that everyone has a feeling of well-being during their travels. The third row is spacious and well-done for a fully realized row of seating that isn't just an afterthought in the design. A Premium Group of features will add still more to your Series II, including color-tinted glass and a 23-speaker McIntosh premium audio system. The sound system is one of the most coveted of any class and is an exclusive.
Obsidian Trim
The Obsidian has already become a classic model among 2022 Grand Wagoneer trim levels. It's the second to fully loaded trim, but it offers such a great balance in all its features that it's already a favorite among buyers. It gets a Black Onyx grille, a 10.25-inch front passenger screen display, and Dark Onyx chiseled metal aluminum dash trim. In addition to these upscale interior and exterior features, the model's ventilated second row seats keep everyone in the Obsidian comfortable. The Obsidian's look is much darker than other trims, as it gets piano black accents in many different places on the interior and exterior. You even get a cooler for the front seating console. Throw in some of your favorite beverages and make a whole day of it on the road in your new Obsidian. This is a model to be thankful for.
Series III Trim
The Series III is the grand finale of an SUV full of grandness. It comes with 22-inch polished wheels with "lights out" pockets and premium quilted Palermo leather-trimmed seats with massage. The drive on the Series III even gets premium features, such as its Active Driving Assist system. If you want to have a grand ride through and through for the rest of your time with a model, the Series III doesn't let you down on any count this year. It's the grandest Wagoneer of them all, and it's finally available now at our dealership in City of Industry CA.
Model Basics
Premium Family SUV. 471-510 horsepower. 9,850 pound towing capacity.
We welcome you to stop by and see us here in City of Industry CA for a test drive of any of the trims you've read about today. Just call us to schedule or stop by and let us know which model you want to drive.