New Ram 2021 Ram 1500 vs 2021 Ford F-150 near West Covina CA for Sale in City of Industry, CA l Los Angeles area
2021 Ram 1500 vs 2021 Ford F-150 near West Covina CA


View Inventory
The Ram 1500 continues to be the top-rated full-size pickup truck on the market. It not only offers prodigious hauling and towing capabilities but is loaded with technologies and amenities. For the 2021 Ram 1500 now available at Puente Hills Ram, Ram has added a number of new intriguing tech options, including a digital rearview mirror that eliminates obstructions from your view. The other most popular pickup on the market is the F-150, and the 2021 Ford F-150 arrives at dealerships in and near West Covina with a redesigned exterior and cabin in addition to a host of new options. With these updates in mind, let us compare the 2021 Ram 1500 vs 2021 Ford F-150 and see how they measure up.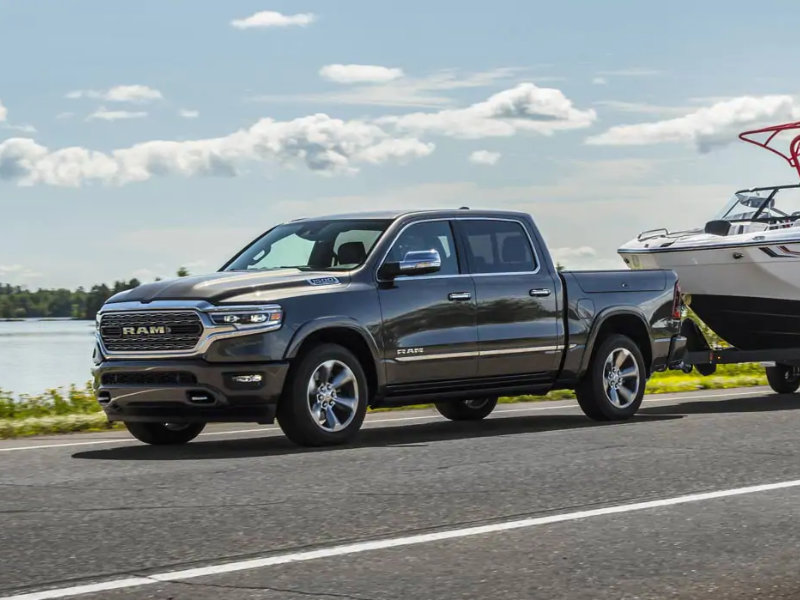 Exterior – Ram Dealer serving West Covina CA
Both Ram and Ford offer an extended cab and a crew cab. Ram calls its extended cab a quad cab and pairs it with a 76-inch bed. It pairs its crew cab with your choice of that bed or a 67-inch bed. Ford calls its extended cab the SuperCab and its crew the SuperCrew. The SuperCab is available with either a 96-inch bed or a 78-inch bed. The SuperCrew comes with either the 78-inch bed or a 66-inch bed. The Ram 1500 wheelbase and length range from 140.5 and 228.9 to 153.5 and 241.8 inches, and the 2021 Ford F-150 wheelbase and length range from 145.0 and 231.7 to 157.0 and 243.5 inches, respectively. The base Ram has 18-inch steel wheels, and 18- to 22-inch alloy wheels are available in a selection of finishes and designs. The base F-150 has 17-inch steel wheels, and 18- to 20-inch alloy wheels are available.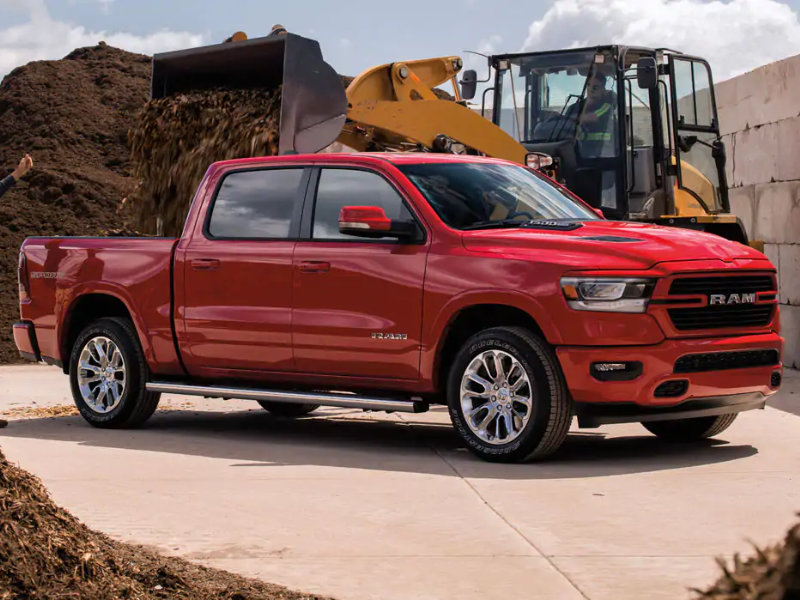 Cabin spaciousness is an area of this 2021 Ram 1500 vs 2021 Ford F-150 comparison where Ram really distinguishes its truck. Its extended cab provides almost 2 inches of additional legroom—45.2 vs 43.6 inches—and its crew cab provides more than 2 inches of additional legroom: 35.6 vs 33.5 inches. While those differences are not enormous on paper, they are certainly significant when it comes to seating adults. Both automakers have designed their crew cabs with four full-size doors. They have taken different approaches with the extended cabs. Both have four doors with half-size rear doors, but the Ram 1500 rear doors are independent and have traditional hinges. The Ford F-150 rear doors are rear hinged, open toward the tailgate and require the front doors to be open in order to open and close.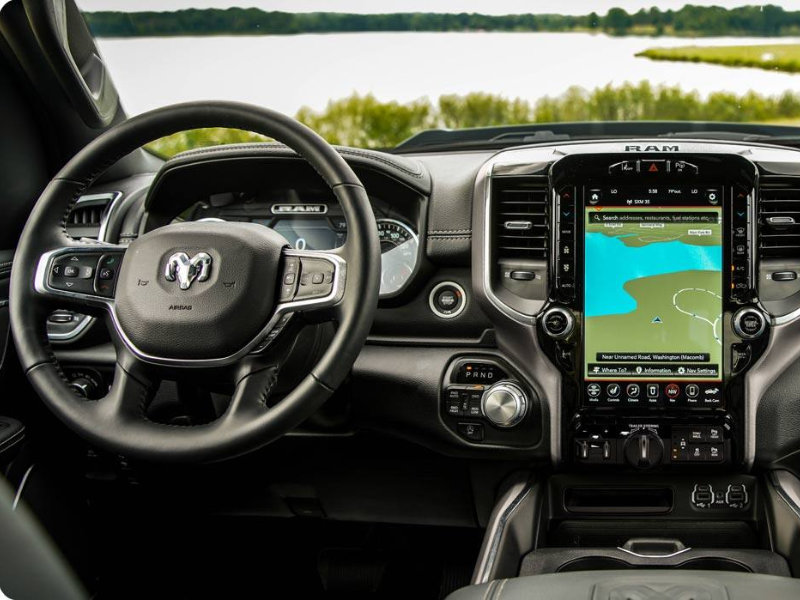 Ram 1500 Mechanical specs
Both Ram and Ford offer a range of powertrains, including a diesel option. For the purposes of this comparison, we will focus on the base powertrain, which is the most popular among the average consumer. The standard Ram 1500 features a 3.6L V6 engine rated for 305 horsepower and 410 pound-feet of torque. This engine features eTorque, a mild-hybrid system that improves fuel performance. Ram pairs this engine with an eight-speed automatic transmission, and you have your choice of rear or four-wheel drive. A properly equipped Ram 1500 can tow as much as 7,730 pounds with this engine. The 2021 Ford F-150 has a 3.3L V6 rated for 290 hp and 265 lb.-ft. It is paired with a 10-speed automatic, and both rear- and four-wheel drive are available. The F-150 can tow as much as 8,200 pounds with this engine, but there is an asterisk. It does require some upgrades, and the base truck tows around 5,000.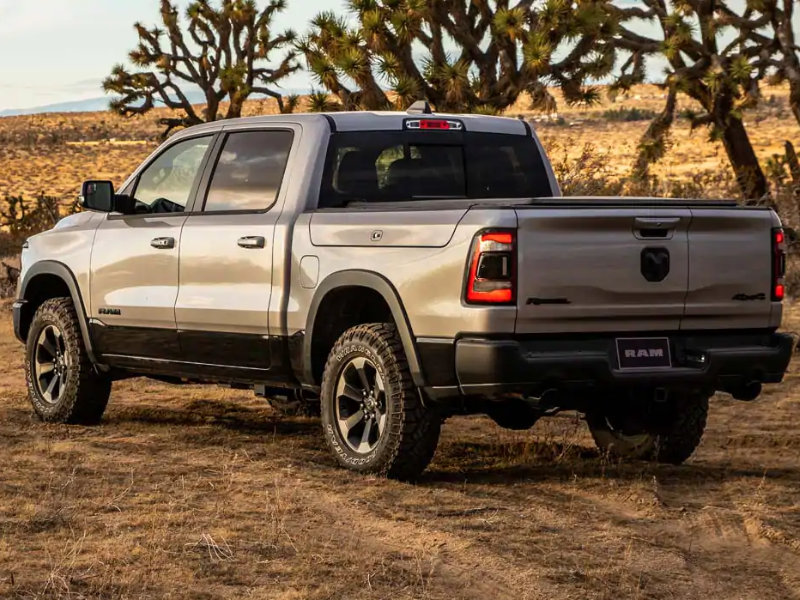 Tech – 2021 Ram 1500 dealer
The Ram 1500 Tradesman available at our location near West Covina comes with a Uconnect 3 infotainment system with a 5-inch touchscreen. An 8.4-inch touchscreen with or without navigation and a 12.0-inch touchscreen with navigation are available. Ford offers the SYNC 4 infotainment system with either an 8-inch or 12-inch touchscreen, and integrated navigation is available. Both automakers offer similar driver assistance technologies, including trailering assist. Ram, however, offers some tech upgrades that are not yet available elsewhere. These include the aforementioned digital rearview mirror that provides a rear view even when obstructed by a trailer or cargo in the bed.
Request a custom quote online or by phone. Our team is happy to answer questions and provide the latest details on the 2021 Ram 1500. If you live in or near West Covina and would like to test-drive the Ram 1500, we encourage you to visit Puente Hills Ram at your convenience. You can also schedule a personalized test-drive through our website in addition to comparing Ram 2500 trims and options!