New Jeep 2021 Jeep Wrangler 4xe in City of Industry CA for Sale in City of Industry, CA l Los Angeles area
2021 Jeep Wrangler 4xe in City of Industry CA


View Inventory
The Jeep Wrangler is one of the most, if not the most, iconic SUV that has ever been made by the brand. For this year, Wrangler created the 4xe which is considered a hybrid model of the popular vehicle that has plug-in capacities in mind to save you fuel. The 2021 Jeep Wrangler 4xe review goes into detail about how this vehicle is still able to get the horsepower that you need for any adventure. The engine is not all of the beauty of this SUV either though, as you will see in more detail below.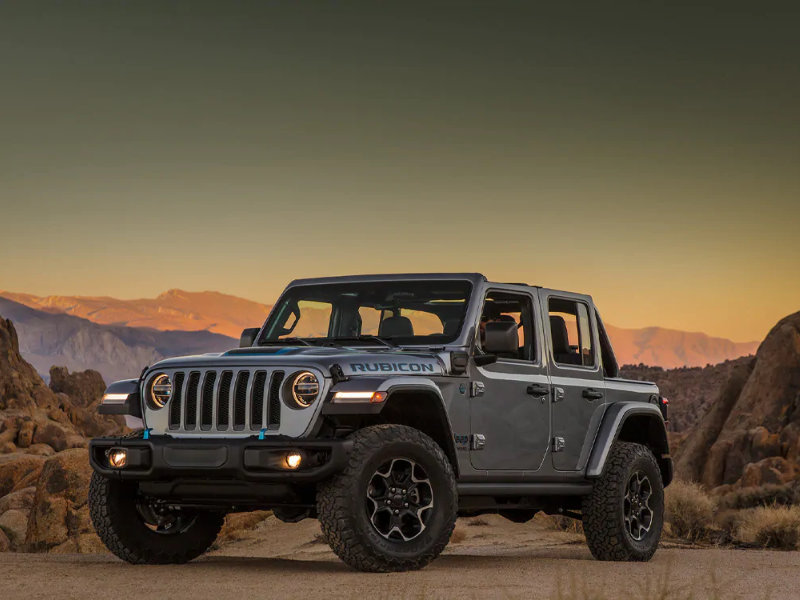 Exterior – Jeep Dealer serving City of Industry CA
The 2021 Jeep Wrangler 4xe in City of Industry has a unique exterior detail with the electric blue accenting. The charging port is located towards the front of the Wrangler to make the process much easier for you, and there is an LED light so that you can check the charge status at any time. Though it is an electric vehicle, there are still rugged looks to the exterior, and you can remove the doors when you pop the top. There are roof pillars to store your gear on and roll bars to keep you safe for off-roading. There are also grip handles if you have anyone who wants to try to hold on tight.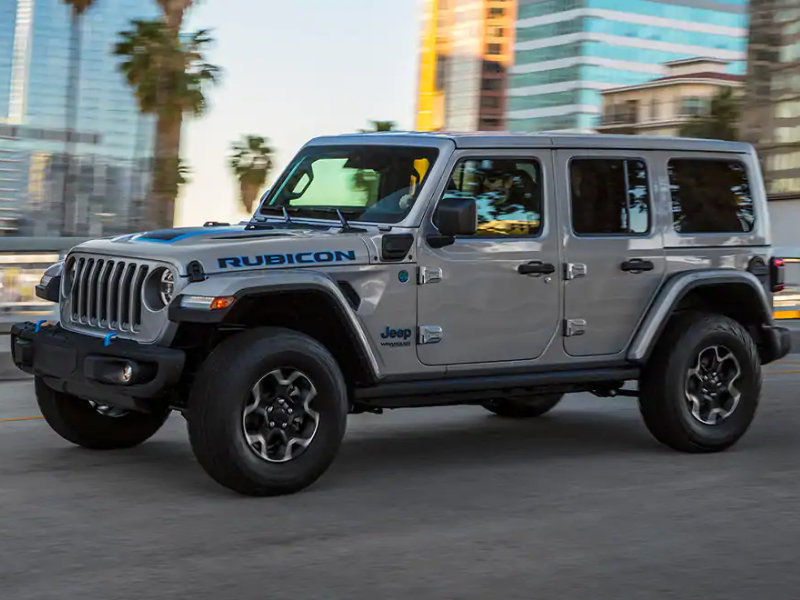 Within the interior of this Puente Hills Jeep, you will feel a certain respect for the vintage look with modern feels and twists. There are two rows of seating, but the back seat does not gold for extra cargo space in this vehicle so you only have room for a few bags. You can choose to make your Wrangler 4xe very basic with a basic radio system, or you can opt to have the latest infotainment technology in it. This infotainment display screen is available in three sizes, ranging from quite small to large depending on the entertainment you want. This infotainment system is compatible with Apple CarPlay, Android Auto, a navigational control system, and even a nine-speaker audio system.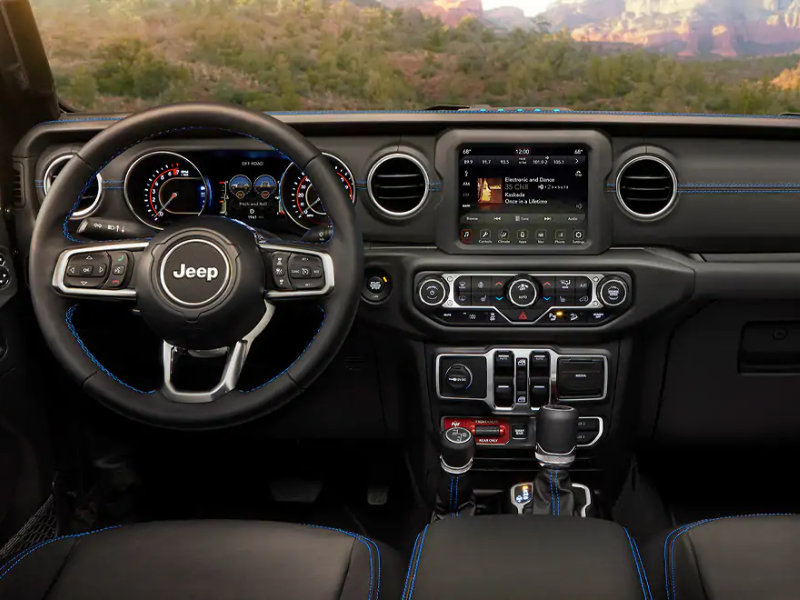 Jeep Wrangler 4xe Mechanical specs
When you arrive at a City of Industry Jeep dealership, you will better understand how an electric vehicle is still able to go off-roading and adventure. The transfer case helps in allowing for all-wheel-drive on the vehicle to start. There are close to 11 inches of ground clearance to go over any terrain or obstacle, and you can even take this Jeep through as much as 30 inches of water without needing to worry. This is because all of the battery components of the hybrid engine are waterproofed. Another mechanical feature of this vehicle though is the regenerative braking which combines traditional brakes with a certain regen you offer. You can even drive with just one pedal if you turn on the MAx Regen mechanics.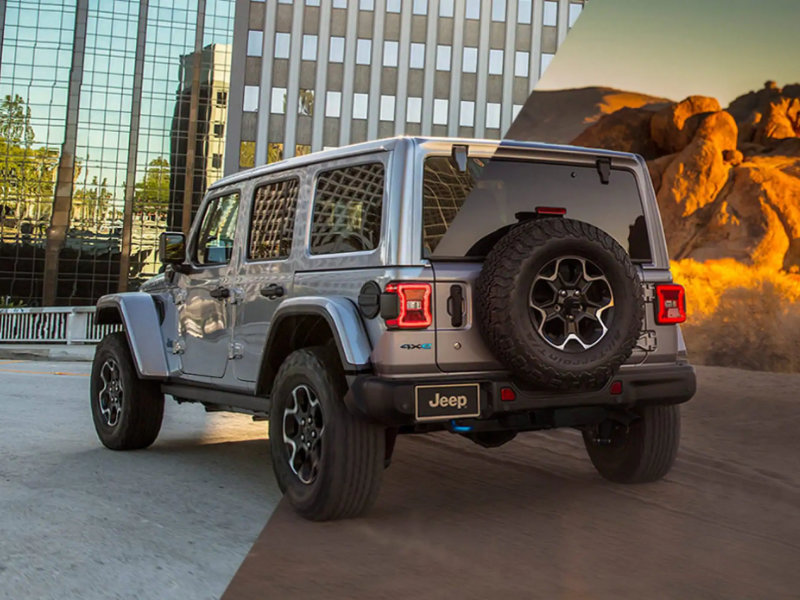 Powertrain – Jeep Dealership in City of Industry CA
The 2021 Jeep Wrangler 4xe in City of Industry is a hybrid engine that combines a 2.0-liter, inline-four engine that is turbocharged with a 17.0-kWh, lithium-ion-nickel-manganese-cobalt system for the battery pack. The inline-four is found under the hood, while the battery pack can be found when you lift up the backseat. This hybrid engine does have an eight-speed automatic transmission that is able to garnish 375-horsepower and over 470 lb-ft of torque. Believe it or not, that is actually much more power than is generated even by the V6 engine of the regular Wrangler. Plus, you get to save so much money on gas costs due to the electric driving capabilities.
Safety – 2021 Jeep Wrangler 4xe dealer
Unfortunately, the Jeep Wrangler 4xe is not listed as a top safety pick when considering the tests done by the Insurance Institute for Highway Safety. This Puente Hills Jeep also has not received any testing from the National Highway Transportation Administration, so there are no good results to understand where this SUB ranks among others. Driver-assistance technologies also do not come as standard on this vehicle, but you can add them on if it would make you more comfortable. These technologies that you can add on include monitors for blind spots and even alerts for when there is traffic behind you. You can also add on sensors to help you park or to help you back up.
Come to a City of Industry Jeep dealership to experience all that the new Wrangler 4xe has to offer to you. This hybrid vehicle has more power than many of the gas-powered of the same name, and it can generate close to 400 horsepower in total. Though the interior is basic, it can still offer infotainment systems and safety alerts if you decide to opt into these features. The exterior still holds the same rugged look with some electric blue accenting so that you do not have to feel as if the classic Wrangler look is compromised.