Shop Online 2020 Jeep Wrangler in City of Industry CA

View Inventory
Vehicle Overview
The ageless Wrangler is a classic that looks virtually the same today as it did when it first took over the industry, but no one minds because the design was perfect from the beginning. A vehicle with configurable windshield, doors, and roof? Yes please! While the colors and aesthetics have changed a bit over time, and today we're seeing large strides forward in interior technology, the overall design of the Wrangler is always a picture frozen in time. Fortunately, it was the best era in the world for off-road SUVs. This trail rated boss continues its dominance in 2020.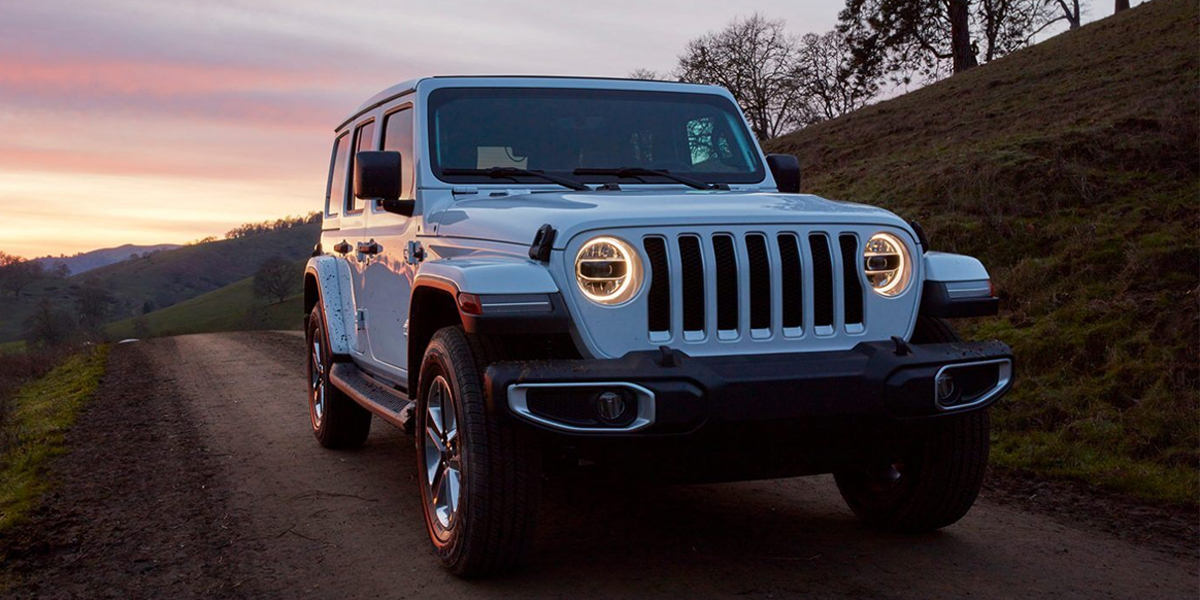 Exterior - 2020 Jeep Wrangler
When you think of a Jeep exterior, it's likely the Wrangler exterior that you think of. It's an almost iron-type look, with a sleek and roughed ruggedness that really stands out in a crowd. And the more square shape has been iconic for decades now, the very epitome of the off-road SUV. As a trail rated vehicle, you not only get a unique look, but you're going to get a unique functionality, too, with highly equipped ground clearance specs and a special suspension system tuned for the trails. The Rubicon gets a shorter axle and front stabilizer bar among many other rugged trail features. The Wrangler comes in unique colors like Bikini Pearlcoat, Hellayella Clearcoat, and Bright White Clearcoat.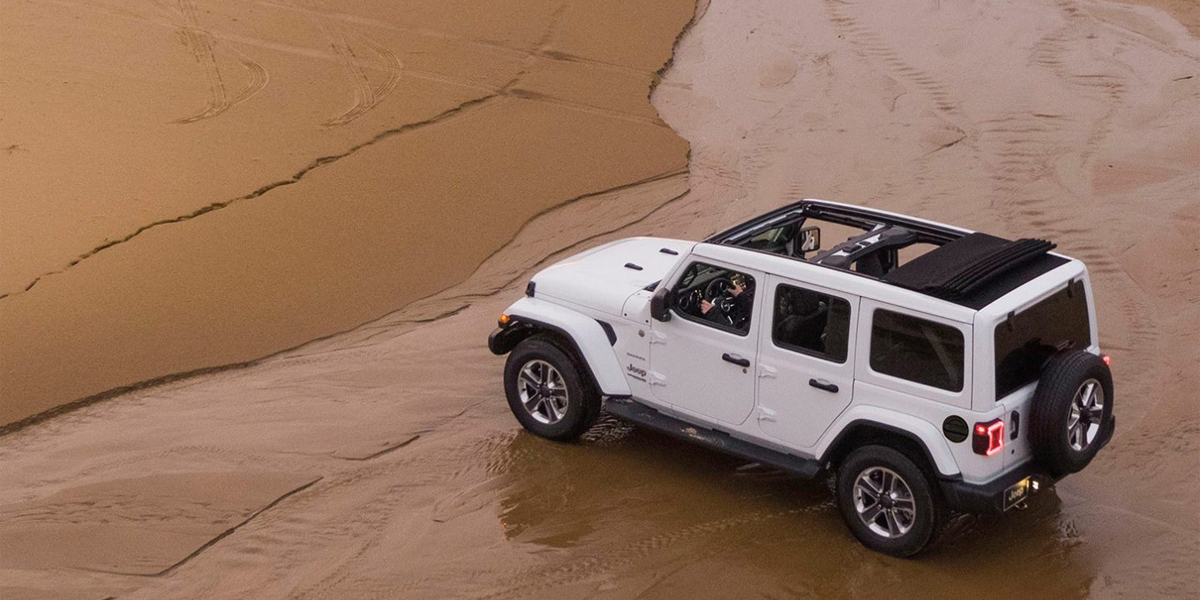 Interior - 2020 Jeep Wrangler in City of Industry
Even the Wrangler's infotainment screens come in three different colors for a unique level of customization you won't find on other off-road gear. With seating for 4, there's room for the whole crew and a weekend camping excursion any time the gang feels like it. All but the base model get a leather-trimmed steering wheel for a comfortable hold and feel while you're out there seeking your next adventures. The rustic sport gets old-fashioned cranked windows and a fold-down windshield for a look and feel that's close to the outdoors in every way. The 5-inch touchscreen infotainment system gets a nice interface, though, and it gives you a bit of interior tech to appreciate.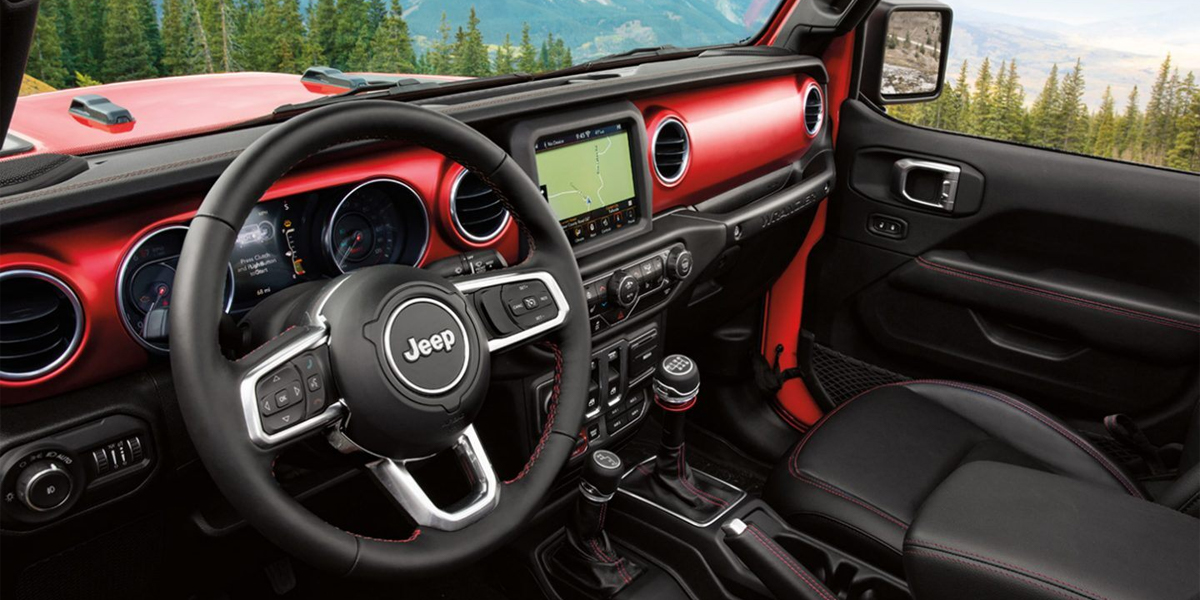 Things get really nice on later trims with leather-trimmed options and more modern features. An equipment package will net you an 8.4" touchscreen system, too, and a generally nicer configuration of materials and interior quality. A power roof is also available for people who like one-touch access to the fresh air.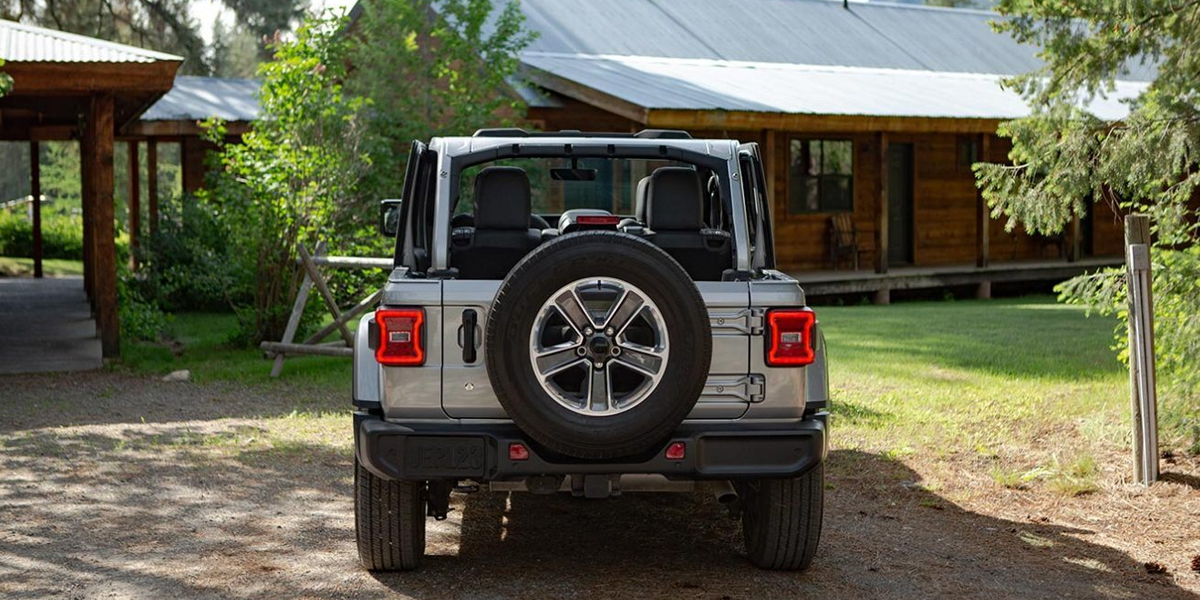 Mechanical/Safety - Jeep Wrangler specs in City of Industry
Our favorite engine for the Wrangler is a 3.6-liter V6 engine rated at 285 horsepower and 260 lb-ft of torque. Of course the real news on a Wrangler is always the off-road equipment. The Altitude's heavy duty suspension and braking systems give you a competitive edge in off-roading. Drive modes and 4X4 systems are active on most higher trims of Wrangler, and each Wrangler is off-road ready with trail rated greatness built into it.
The safety features this year will come from a series of protech advantages. One of our favorite features is blind spot monitoring with rear cross traffic alert. It mans your Jeep on all sides with sensors so that you can always be aware of what's going on at those tricky crossroads before you head out. Adaptive cruise control helps to mitigate in stop and go driving situations that often become a drag for city drivers, so we're glad that the Wrangler is just as safe and convenient when in an urban setting as it is out in the woods around a campfire.
Key Features
The 2020 Jeep Wrangler has many hallmarks of greatness, but above and beyond anything else is the fact that you can go two-door or four-door, roof on or off, and windshield up or down. The only difference is that today, you've got options for one-touch top down fun instead of having to roll things up like in the old days. Go doors on or off at the blink of an eye. The fact remains that the Wrangler is Jeep's staple, its rock, and it's the only vehicle in the world designed quite this way.
Contact Us Online
The 2020 Wrangler only continues to evolve and get better with each new passing year. This one is going to be a timeless addition to the Jeep Wrangler's legacy, and we're certain that used models will be popular for years to come. Why wait? Get the 2020 Wrangler when it's fresh and new! Call our dealership here in City of Industry today to get a test drive of the new Wrangler. You can also stay at home and shop. Just use our quoting, payment calculator, and financing systems to get things done without even leaving your house. Should you have any questions, you can always reach us! Just reach out and let us know what your concerns, questions, or comments are. Our team is always happy to talk to each and every customer and make your shopping experience even better.