Los Angeles Dealer Review – 2021 Chrysler Pacifica

View Inventory
Vehicle Overview
The 2021 Chrysler Pacifica is a family minivan that's most famous for making all-wheel drive a prerequisite for a safe minivan. It's the "cool" minivan that families gladly ditch SUVs for at Puente Hills Chrysler. Its impressively upgraded UConnect infotainment system also earned the model a lot of attention at our Los Angeles area dealer. Our customers are crazy about the 2021 Chrysler Pacifica for so many reasons that we wanted to outline all of those great reasons in a 2021 Chrysler Pacifica review. We hope you'll stick around to read every single reason that people are happily driving away in the Pacifica and beginning their life in a vehicle that's more like a second home than a minivan.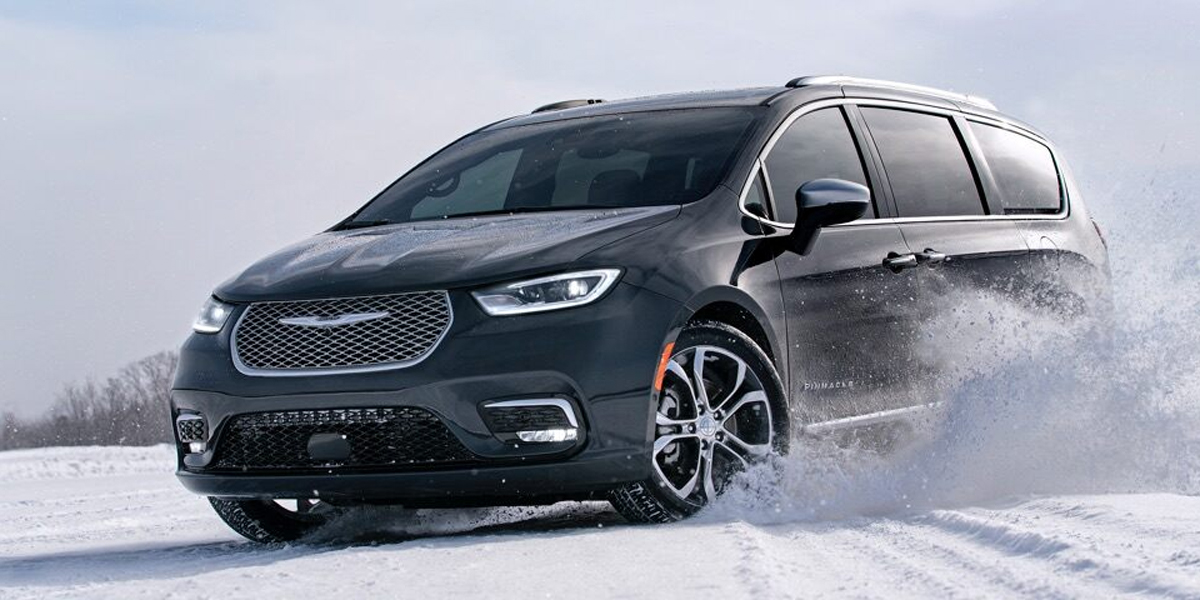 Exterior - 2021 Chrysler Pacifica
Did we mention that the Pacifica is the world's only "ultra cool" minivan? It shows up in every curve bursting forth from the high strength frame that protects your family. It wouldn't be premium without those LED headlights and taillights lighting the way to every bright future day you'll experience in the Pacifica. Vehicles behind you will have a clearer view of your position on the road, and of course, you'll always have a clear view of the road thanks to those crisply designed LED lights. Full-width taillights are a new design feature and give the Pacifica a genuine futuristic vibe. It's almost like seeing a spaceship in minivan form, and who hasn't daydreamed of riding a rocketship around with their kids happily playing games in the back? You can make that sensation happen for your entire family.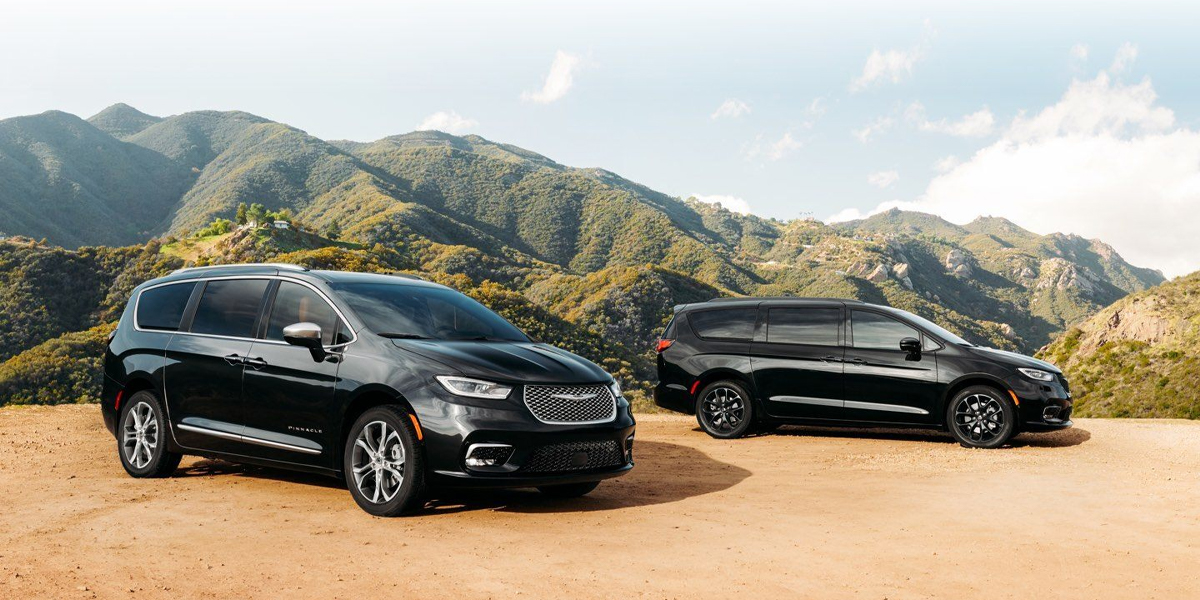 Interior - 2021 Chrysler Pacifica near Los Angeles
There are three super features of the 2021 Pacifica that really stand out in customer's mind when they choose this one. It's the epitome of what a minivan should function as. It's a tool that should flow effortlessly with your life and your children's needs. How's that work on the Pacifica? First up there are power sliding doors that breezily open up when your family needs to enter the vehicle. Second, Stow 'N Go seating allows you to easily stow your seats and make room for more cargo space (ideal for large shopping hauls). And we haven't even gotten into the premium outfits that the Pacifica wears each day. There are satin leather chrome accents throughout the cabin, second-row leather pillows to keep your children comfortable and in the lap of luxury, and quilted caramel Nappa leather-trimmed seats. Each interior detail of the Pacifica is serving Los Angeles Anaheim City of Industry with a level of luxury you've never before seen in a minivan.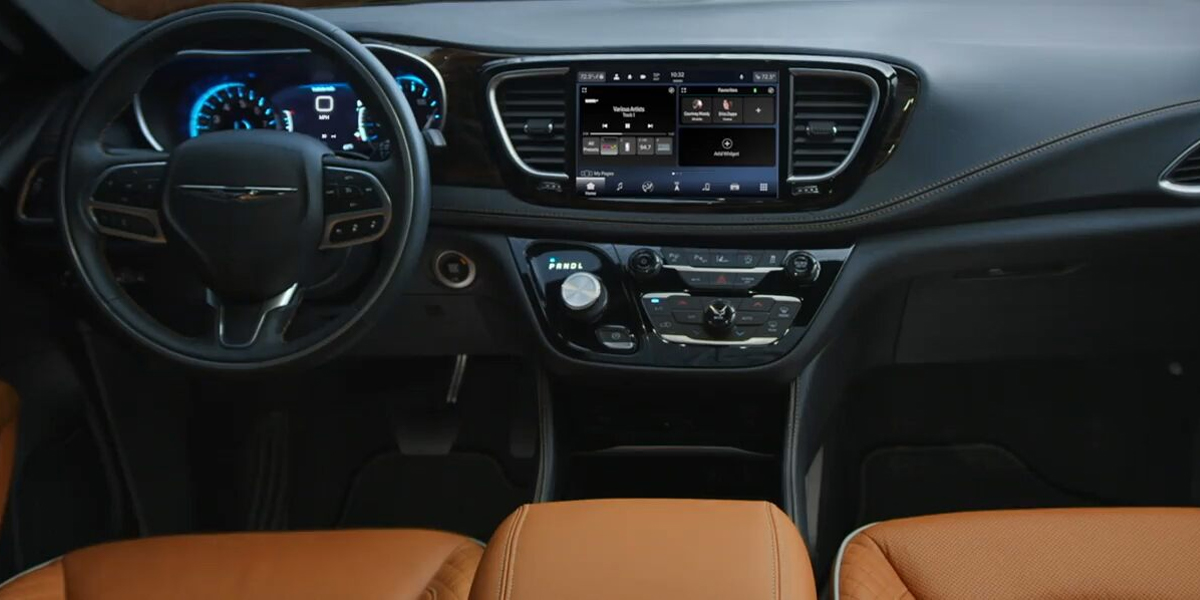 Interior - 2021 Chrysler Pacifica near Los Angeles
Far and away, it's the 10.1" touchscreen infotainment system and UConnect 5 partnership that is the biggest news of all in the interior. The technology inside the Pacifica is more advanced than any other minivan in its class (and in just about any other class as well). We've all waited forever for UConnect 5, and the Pacifica is one of the first models to get the honor of hosting the new infotainment system. The little ones need some entertainment, too, though, so the second row gets a Uconnect Theater with Wireless Headphones. It's filled with games and apps to keep your little ones busy while you're traveling.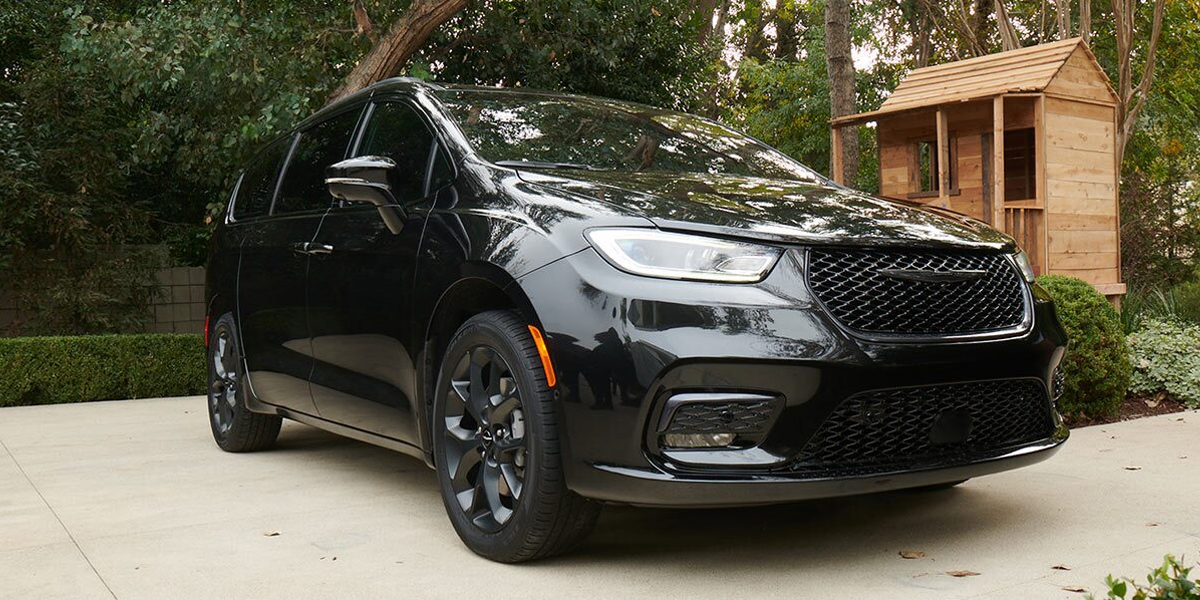 Mechanical - Chrysler Pacifica specs near Los Angeles
Rarely is the word "capability" proudly discussed about a minivan, but with the new addition of all-wheel drive and several rough and rugged upgrades on the Pacifica, this is one minivan that can proudly display its mechanical specs without shame. With a 287 horsepower 3.6-liter V6 engine, 9-speed automatic transmission, and an all-wheel drive system that automatically works without any input from you, you'll be able to pilot your Pacifica with ultimate peace of mind and confidence. No matter what roads lie ahead of you and your family, the Pacifica has the sensor systems, bold wheel choices, and excellent handling quality to handle all of those roads with aplomb.
Powertrain - 2021 Chrysler Pacifica dealer
The 3.6-liter V6 that commands your Pacifica forward is perfectly suited to the aerodynamic body style of the model. Its profound capability makes it one of the biggest stories in the automotive world right now. You'll never understand the difference a Pacifica makes until you really get your hands over the wheel and hit the road. That 287 horsepower is a convincingly statement from a brand that continues to evolve each year.
Safety
As Chrysler points out, your family's safety is their number one priority, hands down. This year's Chrysler Pacifica has a guardian angel at all times with robust safety features like the Pedestrian Automatic Emergency Braking System. Suburban drivers often face situations where pedestrians unwittingly walk behind a vehicle that's in reverse. Tragic accidents happen from this same scenario so many times every year. With your automatic emergency braking in place, if you fail to brake or see a pedestrian, your Pacifica takes over and brakes for you. Full-speed forward collision warning plus uses sensors to monitor for any potential forward collisions. Once again, your Pacifica doesn't just monitor. It acts.
Contact Us Today
Puente Hills Chrysler is happy to be serving Los Angeles Anaheim City of Industry. As a premier Los Angeles area dealer, we serve up deals on the Pacifica each and every day. Our friendly, experienced staff is dedicated to helping you buy the vehicles that enhance your life in each and every way. Not only will you find the perfect minivan for you when you buy the Pacifica, but you will save big bucks by shopping with us. Don't go anywhere else to get this award-winning edition of the Pacifica. Get it here. Call us today to schedule your personalized test drive.
*Article for general informational purposes, for complete details please contact the dealership.