2020 Jeep Wrangler Lease and Specials near Los Angeles CA

*Not actual vehicle
Jeep Wrangler Lease Specials and Finance Offers in City of Industry CA near Los Angeles, West Covina
Why Buy or Lease 2020 Jeep Wrangler near Los Angeles CA
They call the 2020 Jeep Wrangler the next generation icon. What's so iconic about the Wrangler? Well, perhaps the most iconic thing about it is that it's virtually the face of the Jeep brand. It's what you think of when you think of "a Jeep." With its easily configurable roof, windshield, and door options, you can turn the Wrangler into a sort of automobile/ATV hybrid. It's as close to a street legal ATV as it gets, but you don't just want to drive the streets in it. You want to hit those trails. This year's Wrangler loses the Moab trim, but it gains an Altitude variation on the Sahara and Sport models. You'll also find a mild hybrid system in place. What else is new on the 2020 Wrangler?
*Not actual vehicle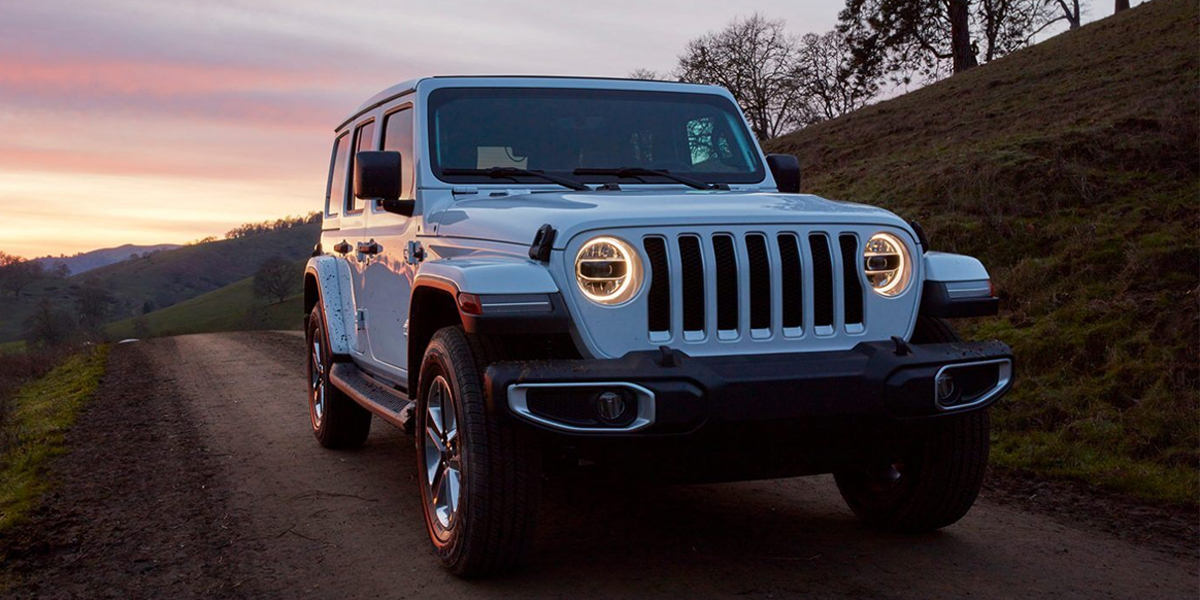 Exterior - 2020 Jeep Wrangler
The Wrangler is the quintessential off-road vehicle of the world. Its look, its feel screams "trail!" The large over-sized tires on some trims give you an off-road prowess you won't find on a vehicle in this class or any other. You can configure the Wrangler to be 2-door or 4-door, fold down your windshield to open it up to the skies, and get a hard or soft top that can be easily removed either manually or with the click of a button on some models. It's like having an off-road convertible to traverse the earth with. It doesn't get any better than that. Color options include colors that are bursting with personality, including:
Firecracker Red Clear-Coat Exterior Paint
Hellayella Clear-Coat Exterior Paint
Bikini Pearl-Coat Exterior Paint
Granite Crystal Metallic Clear-Coat Exterior Paint
Punk'n Metallic Clear-Coat Exterior Paint
*Not actual vehicle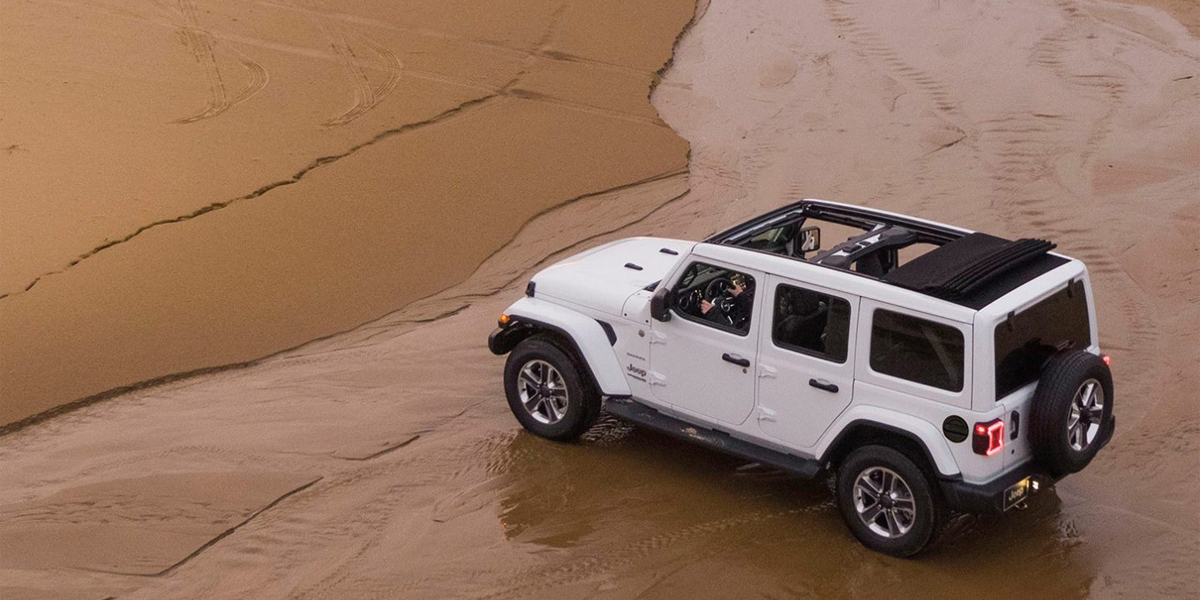 Interior - 2020 Jeep Wrangler near Los Angeles
The versatile interior of the Wrangler is rugged and easily washed out thanks to drains in the floor. The wash-out interior is one of the coolest things we've seen in the history of automobiles. Grab your hose and get the job done at home. Your Wrangler can take it. The Black and Tan trim features Wizard Black Painted Instrument Panel Bolster and other Black and Tan exclusive decor that will be top of the line even for the Wrangler. Gorgeous leather-trimmed seating are available on the Rubicon and higher trims. While most people focus on decking out their Wrangler exterior, you now have more upscale options for your interior, too. Who says you can't feel stately during your time on the trail, too.
*Not actual vehicle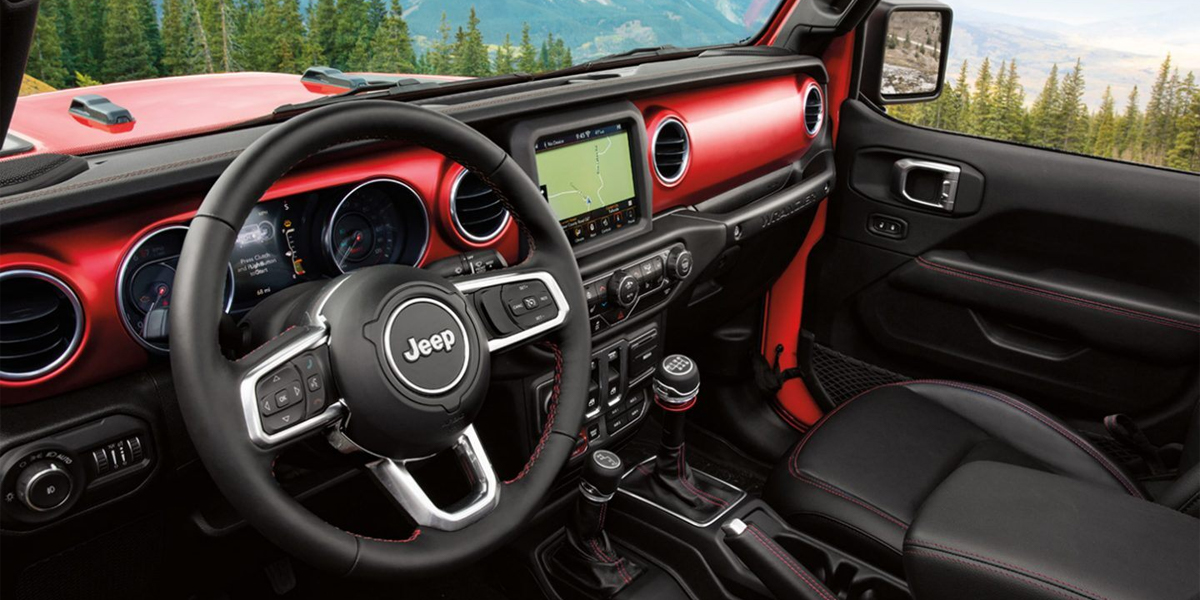 Mechanical - Jeep Wrangler specs near Los Angeles CA
The award-winning 285 horsepower 3.6-liter V6 engine is standard, but there's an optional turbocharged engine that features 270 horsepower and an upgraded 295 lbs-ft of torque. Customers who are outdoor enthusiasts may want to grab the engine with more torque. If you bring along heavier gear with you on your excursions, you won't want to miss out on the more powerful powertrain. The 6-speed manual transmission option comes standard, but you can easily upgrade that when you grab the turbocharged engine. It comes standard with an 8-speed automatic for greater precision on your shifting. It's super quiet, too, so you can enjoy the sounds of the trail (or your Alpine stereo system).
*Not actual vehicle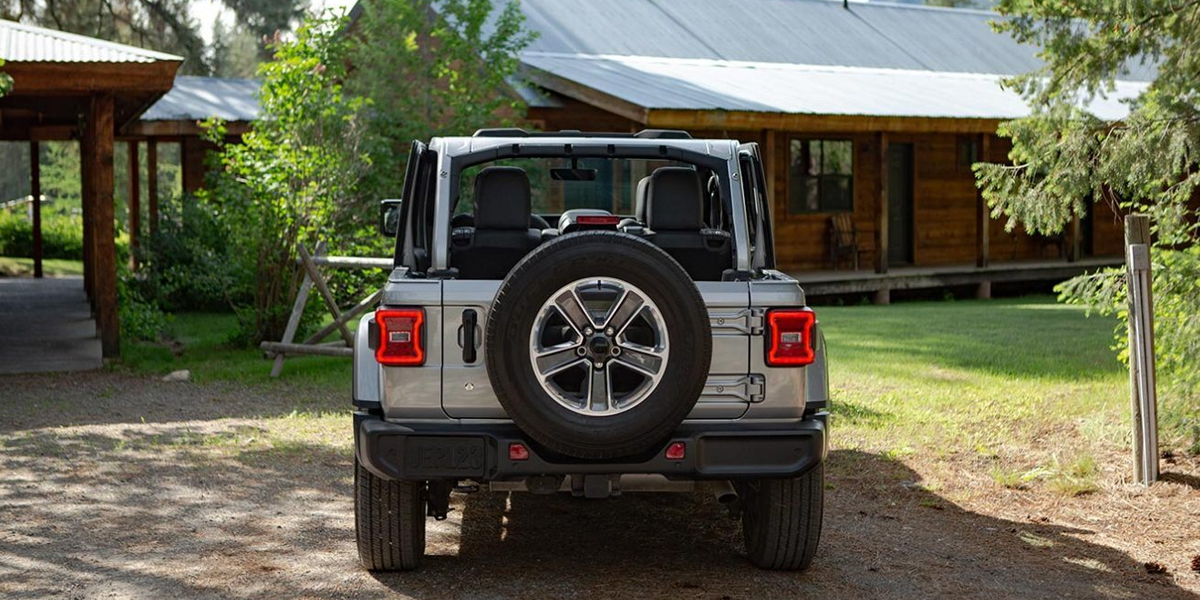 Safety - 2020 Jeep Wrangler dealer
A 5-inch display is standard on early trims of your Wrangler, but the available 8.4" touchscreen infotainment system is well worth upgrading to a higher trim or just grabbing it as part of a technology package. No one wants to be without their connectivity in today's world. Bloggers or YouTubers will be especially pleased with new connectivity features like Bluetooth and Android Auto or Apple CarPlay that let you communicate while you're out there shooting videos or taking pictures of your adventures. Stay in touch even when you're exploring where no other vehicle dares to go.
The first important component of the Wrangler's safety system is the high strength steel frame that gives you a super rigid chassis. It maximizes the control you have over the vehicle and gives you a virtual safety cage to feel comfortable within. Accidents sometimes happen, though, and Jeep knows that you need ways to avoid those accidents with advanced safety technology like Forward Collision Warning, Lane Keeping Systems, and Blind Spot Monitoring. Using sensors all around the vehicle, your Wrangler keeps an eye on your driving performance and spots driver error before it occurs. In some situations, your Jeep Wrangler can come to the rescue and automatically brake or adjust steering to avoid accidents. Convenient parking assist features help you to feel more confident while parking; they can also help you avoid a fender bender that no one wants to deal with in any vehicle. It's a perfect system for the off-road oriented Wrangler.
Trim Levels - 2020 Jeep Wrangler
You've got a dream lineup here with the Sport, Sport S, Sahara, Rubicon, Willys, and Black and Tan trims to choose from. There are a few variants of these vehicles that you should ask us about. The Altitude is definitely an edition you want to focus on. There are also amazing appearance packages that bolster your appearance profile.
Test Drive the 2020 Wrangler
The 2020 Jeep Wrangler has more swagger than a vehicle should be allowed to sport. It's a touch of old world charm that fits in perfectly with its surroundings. For those who love the trails, the outdoors, there's nothing more liberating than hopping into a Wrangler and hitting the road. And with that huge Alpine sound system, you'll never lack for entertainment on the way. Don't miss out on the chance to own this All-American icon! Give our dealership here in Los Angeles California a call today. We'll be ready to set you up with a test drive of your favorite trim.