2020 Jeep Gladiator Lease and Specials near Los Angeles CA
*Not actual vehicle
Jeep Gladiator Lease Specials and Finance Offers in City of Industry CA near Los Angeles, West Covina
Why Buy or Lease 2020 Jeep Gladiator near Los Angeles CA
The five trims of the Jeep Gladiator are a good representation of the Gladiator's strengths. As a mid-size Jeep pickup truck crafted in the mold of all Jeep trail crusaders, it's the perfect combination of Jeep innovation and creativity. Even someone who's seen everything would probably admit that they've never quite seen anything like the new Gladiator. It's technically a pickup truck but with the off-road functionality of the Wrangler and the hauling capacity of a solid pickup truck. The designers at Jeep didn't know if the Gladiator would work, but as it turns out, this is the only trial-rated pickup truck in the world. And that's an accomplishment. Tune in to find out all the other accomplishments of the brand new 2020 Gladiator.

*Not actual vehicle
Exterior - 2020 Jeep Gladiator
Imagine a pickup truck where you can casually remove the roof and go to work convertible style for the day. That's the Gladiator. You have a high level of customization for the roof as well. There's a zipperless soft top, hard top, and a body-colored top for style. The body of the Gladiator is very much like the Wrangler's body, and that's fitting because they share a lot of the same inspiration and are made by the same brand. What sets the Gladiator apart is the innovative truck bed that gives you several feet of cargo capacity. Its rock solid, iconic build remains one of the most unique vehicles ever created by any company. It's an achievement.

*Not actual vehicle
Interior - 2020 Jeep Gladiator near Los Angeles
Imagine an interior that you can actually clean out with a water hose. Thanks to floor drains in the interior of the Gladiator, you can easily remove a few floor mats and get down to business hosing out your Gladiator. That's a revealing trait of the Gladiator and shows you just how down and dirty that this vehicle is meant to be. When you grab a Gladiator, you're doing so because you want to adventure. And adventure isn't spotless. The interior is built for utility, fun, and functionality most of all. It's a child of the outdoors, so you can expect an interior that is ready to get dirty with the best of them. It dresses up nicely, too, though. Leather-trimmed options are a reality on your Rubicon and higher trims. Whether you're going formal or going camping, the Gladiator is ready to roll out in style.

*Not actual vehicle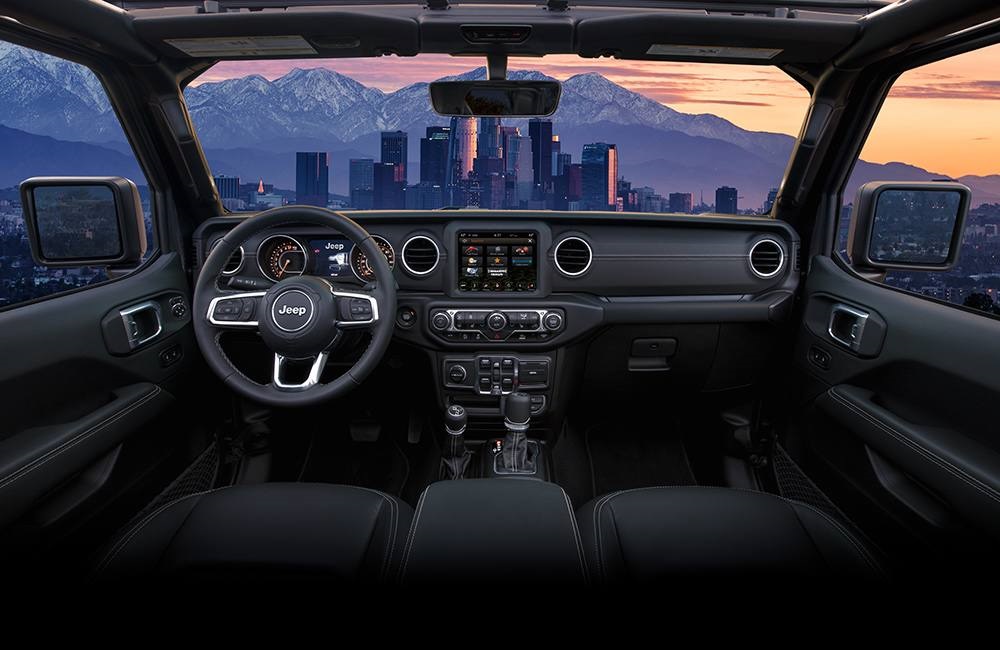 Mechanical - Jeep Gladiator specs near Los Angeles CA
The 285 horsepower Pentastar V6 engine can confidently tow 5,000 pounds without so much as skipping a beat. With 260 lbs-ft of torque, you can bet that it gets mostly coveted low-end torque for pulling and hauling purposes. Your Jeep 4X4 systems, including a Terrain Management System that lets you choose the kind of terrain you want to completely annihilate any particular day is one of the Gladiator's many pluses.

*Not actual vehicle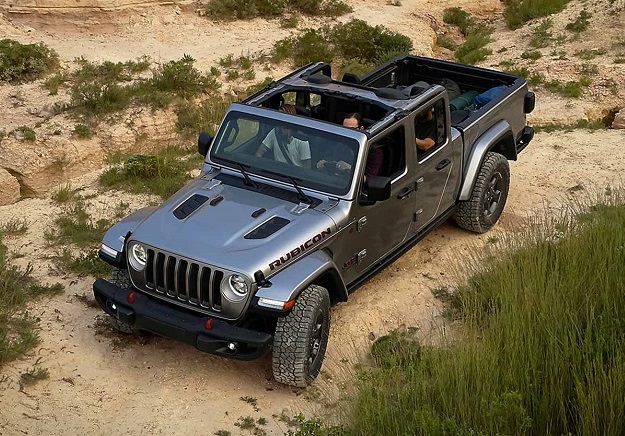 Technology & Safety - 2020 Jeep Gladiator dealer
Your 7-inch and 8.4-inch touchscreen infotainment system options both have a superb software setup. Sometimes it's just a matter of personal preference. Some people prefer the larger screens, while other people like to keep things a little smaller but clearer. You'll find the picture quality on both touchscreens to be excellent. And thanks to new Jeep technology, you'll want to take advantage of both of them. Your camera angles are as much a safety system as a technology feature. When you're out there in punishing terrains, you need to know what's happening on the exterior of your vehicle at all times. The addition of a bigger screen really helps the Gladiator's usefulness. Others will just want to use it to pick out a song on their premium Alpine audio system. That's one of the major perks of getting a higher trim, too, such as the Rubicon.
Safety features are abundant on the new 2020 Jeep Gladiator. Thanks to three separate safety packages, you can pick and choose which features matter most to you. For many people, you'll want to grab all of them. Jeep makes it easy to do that either by upgrading your trim or grabbing an add-on safety package that comes with the works. You'll appreciate the confidence that comes with features like blind spot monitoring, adaptive cruise control, automatic emergency braking, and other stellar safety features that help keep your Gladiator and you safe and sound. When you're heading out to some of the most dangerous terrains to off-road in a trail-rated pickup truck, it's nice to know that you've got Jeep safety systems on your side at all times.
Trim Levels - 2020 Jeep Gladiator
Take your time, and pick out your fun: Sport, Sport S, Overland, North Edition, Rubicon. Each of these vehicles represents a world class off-roading experience and genuinely nice pickup truck. Yes, we buy this one for the off-roading features and adventuring, but when it comes down to it, the Gladiator has great utility as "just" a truck, too. Its bed is durable, the cabin space offers a large amount of passenger capacity, and it's just attractive all the way around. Thanks Jeep!
Test Drive the 2020 Gladiator
There's a big world to explore out there. Why not explore it in a brand new 2020 Gladiator? If you take a moment to look over the trims, you'll see just how much each one of these has to offer. Head over to a trim page and request a quote! You'll instantly see how much your monthly payment and down payment might be. If you like the price, just give us a call to schedule a test drive. There's nothing in the world like driving a Gladiator. We hope to see you here at our Los Angeles CA dealership soon.