2020 Ram 2500 vs 2020 Ford Super Duty near Anaheim CA

View Inventory
Vehicle Overview
The 2020 Ram 2500 sports one of the finest interiors of any heavy duty pickup truck. It also has a powerful class leading 6.4L V8 engine under its hood, something that really attracts many of the truck buyers here at Puente Hills Ram. When you want power, you've got to buy a truck that has it! Your 2020 Ram 2500 vs 2020 Ford Super Duty match-up will reveal that the 2020 Ram 2500 bests the 2020 Ford Super Duty on more than just power, though. The 2500 is a gentle giant and a true champion. It's rough and rugged in all the right spots but has a soft touch inside. Puente Hills Ram is serving Anaheim City of Industry West Covina Cerritos with a full preview of both vehicles.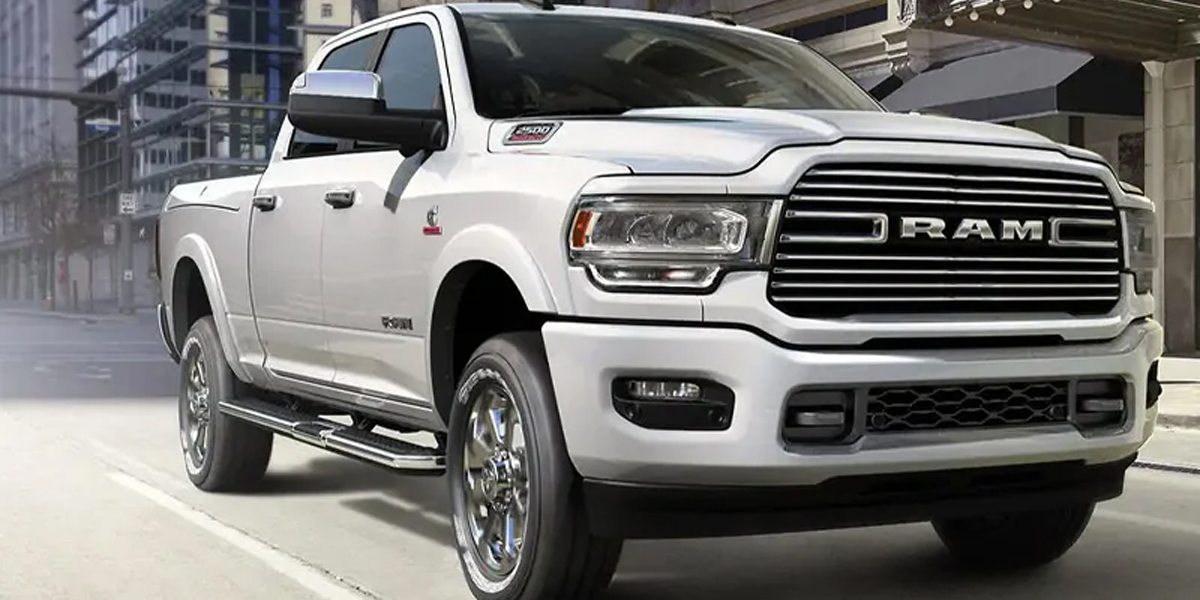 Technology - 2020 Ram 2500
Speaking of technology, we'd be doing a disservice to our customers if we didn't emphasize the advanced nature of the 2500's 12-inch touchscreen UConnect infotainment system. It features something called "pinch and zoom" technology that puts you in full command of every angle and piece of information on your screen. Whether you're using a map through a navigation app or picking out your favorite tunes, the 2500's 12-inch touchscreen blasts the Super Duty's offering. Throw in hands-free texting and calling, Bluetooth, wireless device charging, and that large center console to stow your hardware, and you've got a 2500 that's a virtual super computer.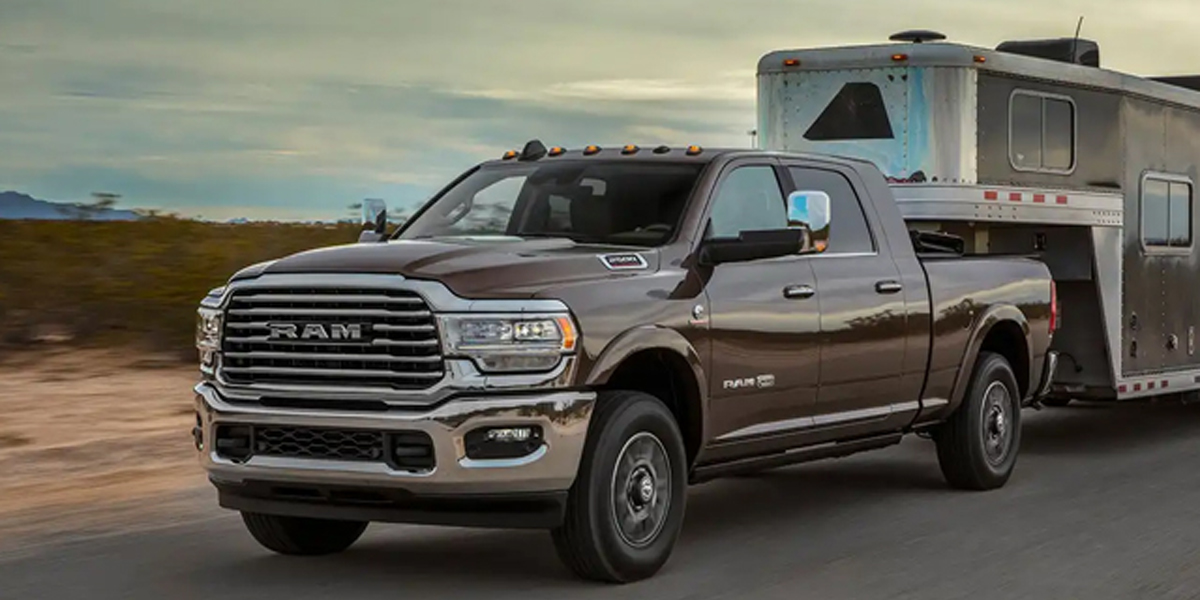 Interior - 2020 Ram 2500 near Anaheim
One quick look inside both vehicles reveals that only the RAM 2500 decided to bring its A-game this year on its interior quality. With a huge touchscreen, huge center console to stow your mobile gear, reclining rear seats, auto temperature control, and geniuine 100% leather seating on two top trims, the RAM 2500 is far and away a more luxurious truck than the more traditional 2020 Ford Super Duty. Just because you've got a heavy job to do doesn't mean you don't want the comfort and convenience of the 2020 2500.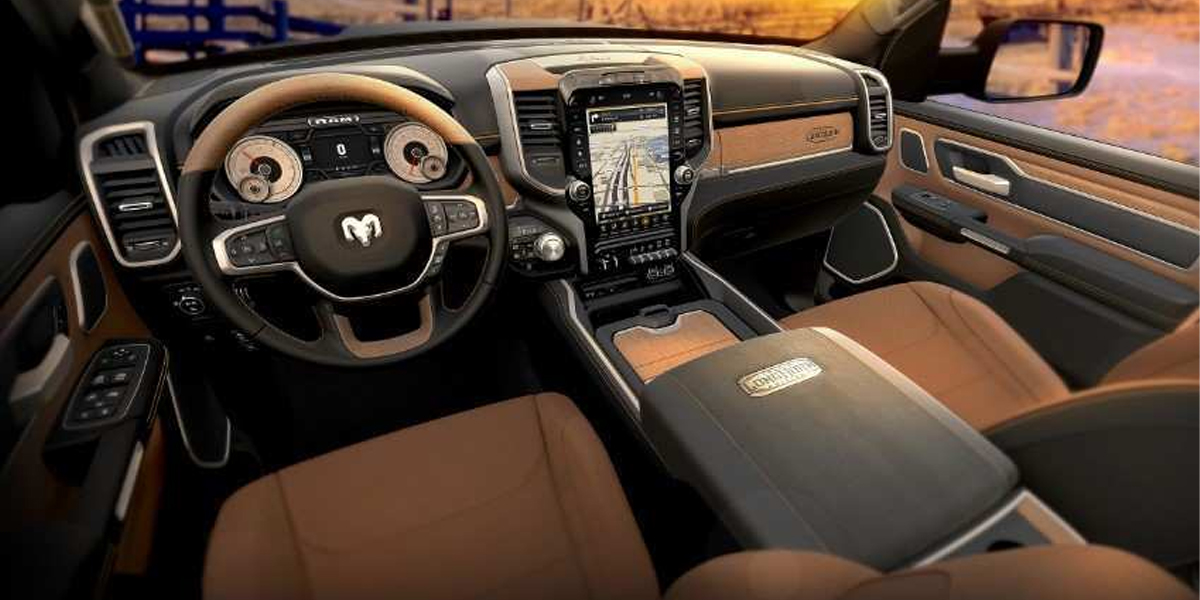 When you step into a truck for work, it's nice to know that you have advanced tech and comfort on your side. By trying to stay more traditional, the Super Duty really fails itself and its customers this year. Puente Hills Ram is confident you'll find the RAM 2500 more enjoyable to drive and operate, as it's constantly serving Anaheim City of Industry West Covina Cerritos customers with a great amount of interior amenities and creature comforts.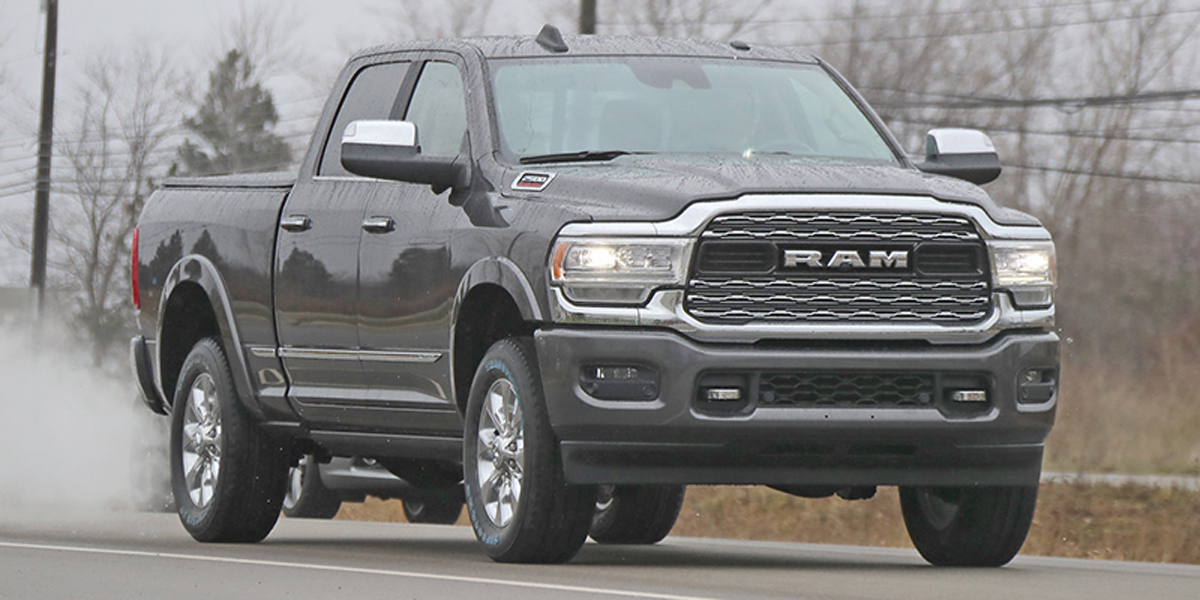 Powertrain - Ram 2500 specs near Anaheim
Let's face it. Most people buy a pickup truck because they want an out of this world powertrain. Both of the models here have that. When looking at the 2020 Ram 2500 vs 2020 Ford Super Duty side by side, you see that the Heavy Duty 6.4L HEMI V8 of the RAM 2500 is significantly superior to the 6.2L V8 gas engine on the 2020 Ford Super Duty. Its 385 horsepower engine falls short in every way. Yes, the Super Duty does have a powerful diesel engine that edges out the gas engines of the 2500, but if you're a fan of the V8 gas powered engine, you can't do better than the 2020 2500. With 429 lb-ft of torque, the gas powered RAM 1500 is at the head of the class on gas engines.
Winner - 2020 Ram 2500
We're pleased to announce our winner to: the 2020 2500! Ram has been turning out some of the best heavy duty models in the world these past few years. They're hyper luxurious and pumped full of the best technology in the automotive world. And this year's 410 horsepower gas engine is going to thrill just about anyone who prefers to stay away from diesel. You get an outrageous amount of power here for a gas engine. There's so much more to learn and love about the 2020 2500. Some of our favorite features include the mechanical innovations on the Power Wagon trim. It features off-road shocks, skid plates, and excellent Hill Descent Control for maximum power over your adventuring. Other models like the Limited just bring big luxury: heated and ventilated seats, gorgeous leather upholstery, and reclining rear seats.
Test Drive Today - 2020 Ram 2500
Hop into a brand new 2020 2500 today to make your biggest decision! A full test drive lets you go hands-on with no holds barred so that you can test out its powertrain, cozy driver's seat, and full tech menu. Ask questions during the test drive or just pay close attention to the road in every way. The scenery from a 2500 is always beautiful. Call us today to schedule your test drive, or simply stop by and see us here at Puente Hills. We look forward to serving Anaheim City of Industry West Covina Cerritos with big time savings on the Ram 2500 in 2020. Just call, write, or stop by!