2020 Jeep Gladiator vs 2020 Ford Ranger near Anaheim CA

View Inventory
Vehicle Overview
The 2020 Jeep Gladiator follows a long line of Gladiators that are trail rated and off-road machines of an almost alien race. Nothing on earth is like the 2020 Jeep Gladiator, and that's bad news for models like the 2020 Ford Ranger that fail to bring much to the table that stands out. Your Gladiator is modeled after the Wrangler, but it's built with a truck bed for the most unique pickup truck design in history. It's essentially a Wrangler pickup truck, and not many vehicles in the industry could mess with something that ingenious. Puente Hills Jeep, serving Anaheim City of Industry West Covina Cerritos, assures our customers that the Jeep Gladiator is definitely a better model than the 2020 Ford Ranger (by a landslide).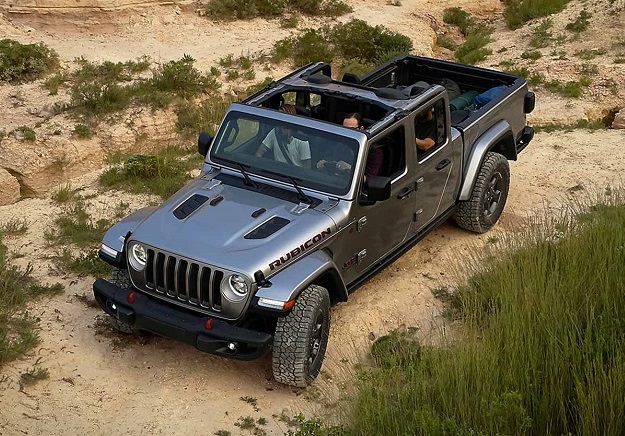 Off-Road - 2020 Jeep Gladiator
Some people love to drive just for the pure pleasure of driving. It's competitive. It's exciting. And it's fun. The Ranger isn't really geared for this type of fun. It might get you to the movies on a Saturday night, but it's not going to be scaling a mountainside any time soon. For its part, the Jeep Gladiator offers up off-road equipment like: Locking Front and Rear Differentials and Electronic Front Sway Bar Disconnect (Rubicon), Best-in-Class 4x4 Payload and Available Best-in-Class Gas Towing (Sport S), Trail Rated® 4x4 Capability (Sport), Fox Internal Bypass Reservoir Shocks (Mojave).
Interior - 2020 Jeep Gladiator near Anaheim
The Gladiator's interior is completely convertible, just like its cousin the Wrangler. You'll be able to remove doors, windshields, and the roof on the flu for whatever kind of weekend fun you're planning. It's this convertible nature that makes the Gladiator the only pickup truck of its kind. Pointing out that you're stuck with a roof if you opt for the Ranger is kind of overkill at this point, but we're going to point it out anyway: if you want a convertible pickup truck, something that doesn't exist except in the Gladiator, then you have to choose the Gladiator in this category.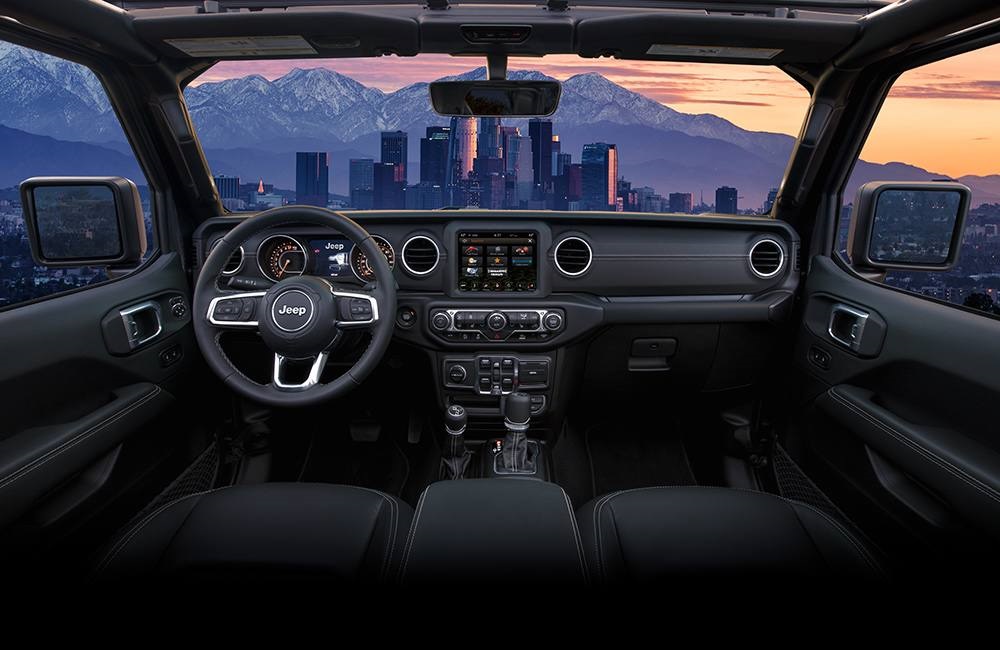 Not only does the interior configure on the Gladiator, but it also gives you upscale features, too, such as:
Quilted Nappa leather-trimmed seats with caramel stitching (High Altitude)
8.4" UConnect 4C infotainment system (North Edition)
Standard Apple CarPlay and Android Auto (Overland)
Leather-trimmed seating (Overland)
7-inch touchscreen option (Sport S)
As you can see, you get more for your money when you opt for the Gladiator. Not only do you get the best equipped off-road truck on the road, trail rated just like every other Jeep, but you're getting premium Nappa leather seating options as well. Big time technology also is strewn about the Gladiator cabin, giving you perks like Bluetooth, hands-free texting and calling, and USB ports enough to keep your devices up and running and ready to rock and roll just like your Gladiator.
Mechanical - Jeep Gladiator specs near Anaheim
The powertrains of the Gladiator and Ranger are wildly different, and that's exactly what we expected to see. The Ranger's 275 horsepower engine and 310 lb-ft of torque is no match for the Gladiator's top horsepower of 285 and top torque of 442 lb-ft of torque. Read that second number again. We didn't make that up. That's a huge amount of torque to work with and one of the reasons that the Gladiator manages to conquer everything up to and including desert environments. Jeep is all about conquering environments. The Ranger is more of an on-pavement solution that focuses on commuting and basics. And while the Ranger might be fine for a few folks who don't particularly care for off-roading, there's no reason to skip the peppier drive of the Gladiator.
Winner - 2020 Jeep Renegade
The 2020 Gladiator is going to win mountains of accolades this year, go on to shred every trail in America in the right hands, and become a classic in the model's line. The Ranger? Well, it's not going to do any of those things, but it might save people a few bucks if they're not all that interested in off-roading. There's no argument here from just about anyone that the 2020 Gladiator is the better of the two pickup trucks. It's so much better that we almost felt a little bad for the Ranger. We'll get over it, though, once we're off-roading in a Gladiator.
Test Drive Today - 2020 Jeep Renegade dealer
Thanks for tuning into our 2020 Jeep Gladiator vs 2020 Ford Ranger comparison here at Puente Hills Jeep. We're happy to be serving Anaheim City of Industry West Covina Cerritos customers with a string of deals on the Gladiator all year long. If you've ever wanted to own one of these off-road champions, this is your year to make it happen! Call us today to schedule a test drive of your favorite Gladiator trim. As the North American Truck of the Year, this truck is built to conquer.